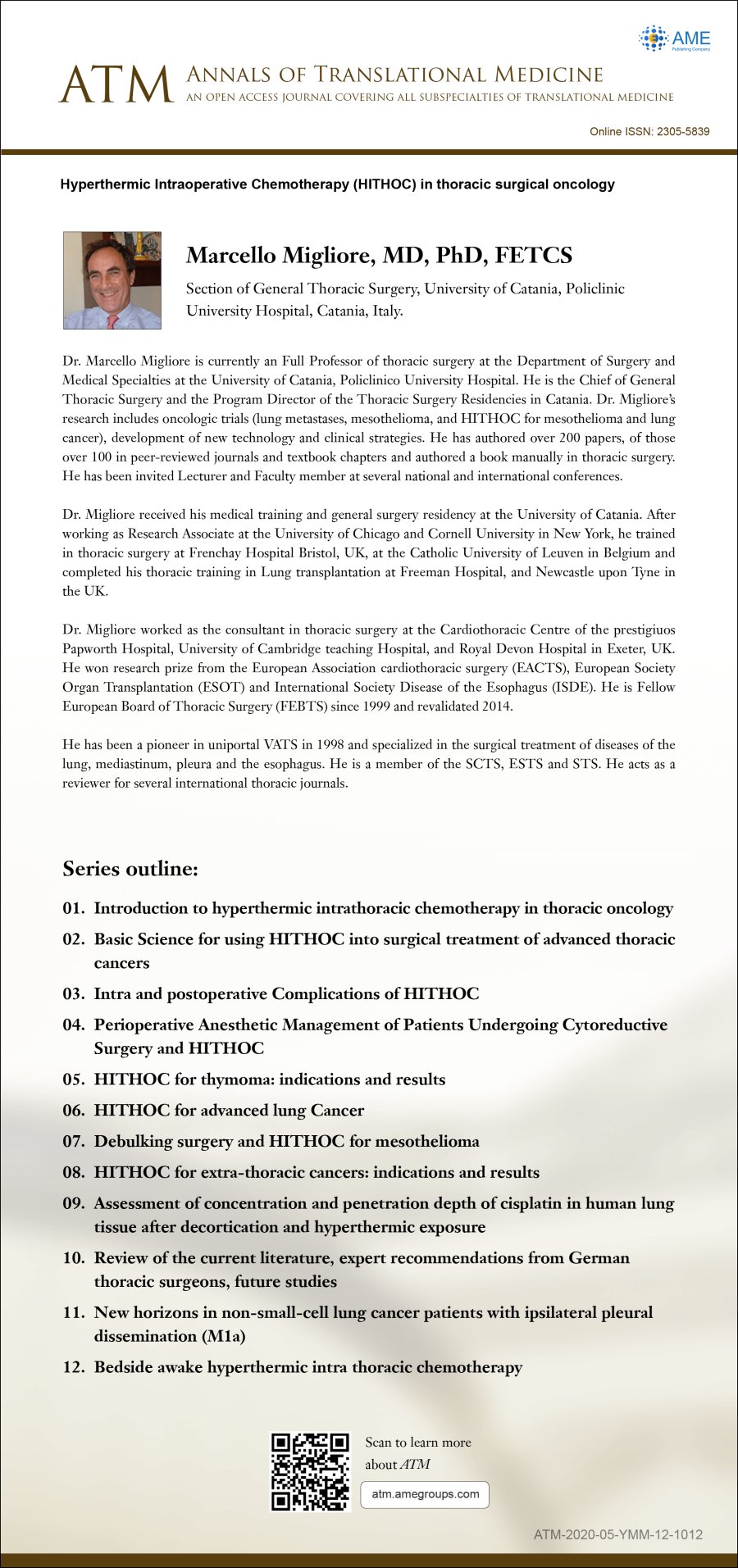 This series on "Hyperthermic Intraoperative Chemotherapy (HITHOC) in Thoracic Surgical Oncology" is edited by Dr. Marcello Migliore, Section of General Thoracic Surgery, University of Catania, Policlinic University Hospital, Catania, Italy.
Dr. Marcello Migliore is currently an Full Professor of thoracic surgery at the Department of Surgery and Medical Specialties at the University of Catania, Policlinico University Hospital. He is the Chief of General Thoracic Surgery and the Program Director of the Thoracic Surgery Residencies in Catania. Dr. Migliore's research includes oncologic trials (lung metastases, mesothelioma, and HITHOC for mesothelioma and lung cancer), development of new technology and clinical strategies. He has authored over 200 papers, of those over 100 in peer-reviewed journals and textbook chapters and authored a book manually in thoracic surgery. He has been invited Lecturer and Faculty member at several national and international conferences.
Dr. Migliore received his medical training and general surgery residency at the University of Catania. After working as Research Associate at the University of Chicago and Cornell University in New York, he trained in thoracic surgery at Frenchay Hospital Bristol, UK, at the Catholic University of Leuven in Belgium and completed his thoracic training in Lung transplantation at Freeman Hospital, and Newcastle upon Tyne in the UK.
Dr. Migliore worked as the consultant in thoracic surgery at the Cardiothoracic Centre of the prestigiuos Papworth Hospital, University of Cambridge teaching Hospital, and Royal Devon Hospital in Exeter, UK. He won research prize from the European Association cardiothoracic surgery (EACTS), European Society Organ Transplantation (ESOT) and International Society Disease of the Esophagus (ISDE). He is Fellow European Board of Thoracic Surgery (FEBTS) since 1999 and revalidated 2014.
He has been a pioneer in uniportal VATS in 1998 and specialized in the surgical treatment of diseases of the lung, mediastinum, pleura and the esophagus. He is a member of the SCTS, ESTS and STS. He acts as a reviewer for several international thoracic journals.
Series outline:
Introduction to hyperthermic intrathoracic chemotherapy in thoracic oncology.
Basic Science for using HITHOC into surgical treatment of advanced thoracic cancers.
Intra and postoperative Complications of HITHOC.
Perioperative Anesthetic Management of Patients Undergoing Cytoreductive Surgery and HITHOC.
HITHOC for thymoma: indications and results.
HITHOC for advanced lung Cancer.
Debulking surgery and HITHOC for mesothelioma.
HITHOC for extra-thoracic cancers: indications and results.
Assessment of concentration and penetration depth of cisplatin in human lung tissue after decortication and hyperthermic exposure.
Review of the current literature, expert recommendations from German thoracic surgeons, future studies.
New horizons in non-small-cell lung cancer patients with ipsilateral pleural dissemination (M1a).
Bedside awake hyperthermic intra thoracic chemotherapy.
Disclosure:
The series "Hyperthermic Intraoperative Chemotherapy (HITHOC) in Thoracic Surgical Oncology" was commissioned by the editorial office, Annals of Translational Medicine without any sponsorship or funding. Marcello Migliore is serving as the unpaid Guest Editor for the series.