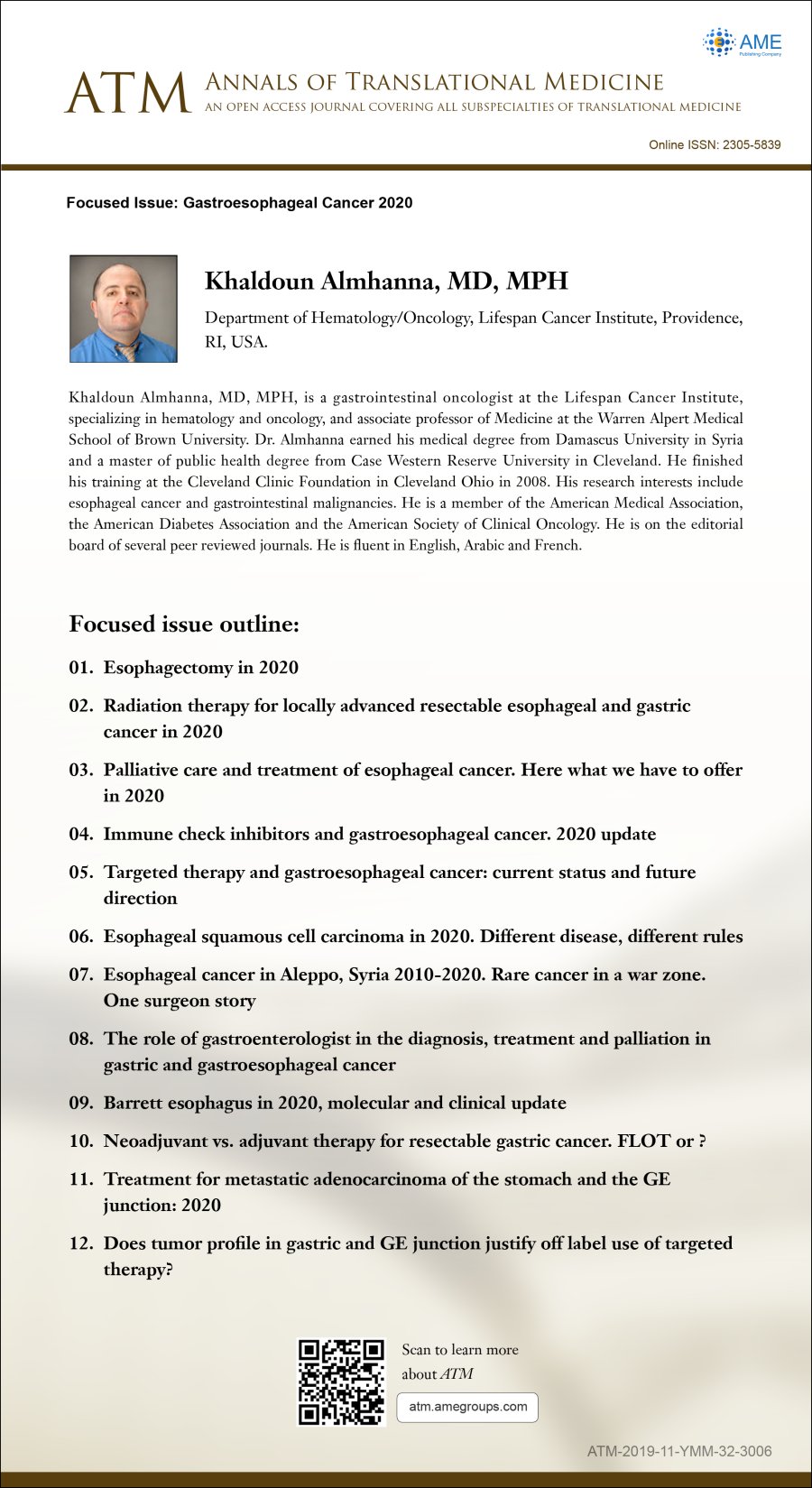 This Focused Issue on "Gastroesophageal Cancer 2020" is edited by Khaldoun Almhanna, MD, MPH, from Department of Hematology/Oncology, Lifespan Cancer Institute, Providence, RI, USA.
Khaldoun Almhanna, MD, MPH, is a gastrointestinal oncologist at the Lifespan Cancer Institute, specializing in hematology and oncology, and associate professor of Medicine at the Warren Alpert Medical School of Brown University. Dr. Almhanna earned his medical degree from Damascus University in Syria and a master of public health degree from Case Western Reserve University in Cleveland. He finished his training at the Cleveland Clinic Foundation in Cleveland Ohio in 2008. His research interests include esophageal cancer and gastrointestinal malignancies. He is a member of the American Medical Association, the American Diabetes Association and the American Society of Clinical Oncology. He is on the editorial board of several peer reviewed journals. He is fluent in English, Arabic and French.
Focused issue outline:
Esophagectomy in 2020
Radiation therapy for locally advanced resectable esophageal and gastric cancer in 2020
Palliative care and treatment of esophageal cancer. Here what we have to offer in 2020
Immune check inhibitors and gastroesophageal cancer. 2020 update
Targeted therapy and gastroesophageal cancer: current status and future direction
Esophageal squamous cell carcinoma in 2020. Different disease, different rules
Esophageal cancer in Aleppo, Syria 2010-2020. Rare cancer in a war zone. One surgeon story
The role of gastroenterologist in the diagnosis, treatment and palliation in gastric and gastroesophageal cancer
Barrett esophagus in 2020, molecular and clinical update
Neoadjuvant vs. adjuvant therapy for resectable gastric cancer. FLOT or ?
Treatment for metastatic adenocarcinoma of the stomach and the GE junction: 2020
Does tumor profile in gastric and GE junction justify off label use of targeted therapy?