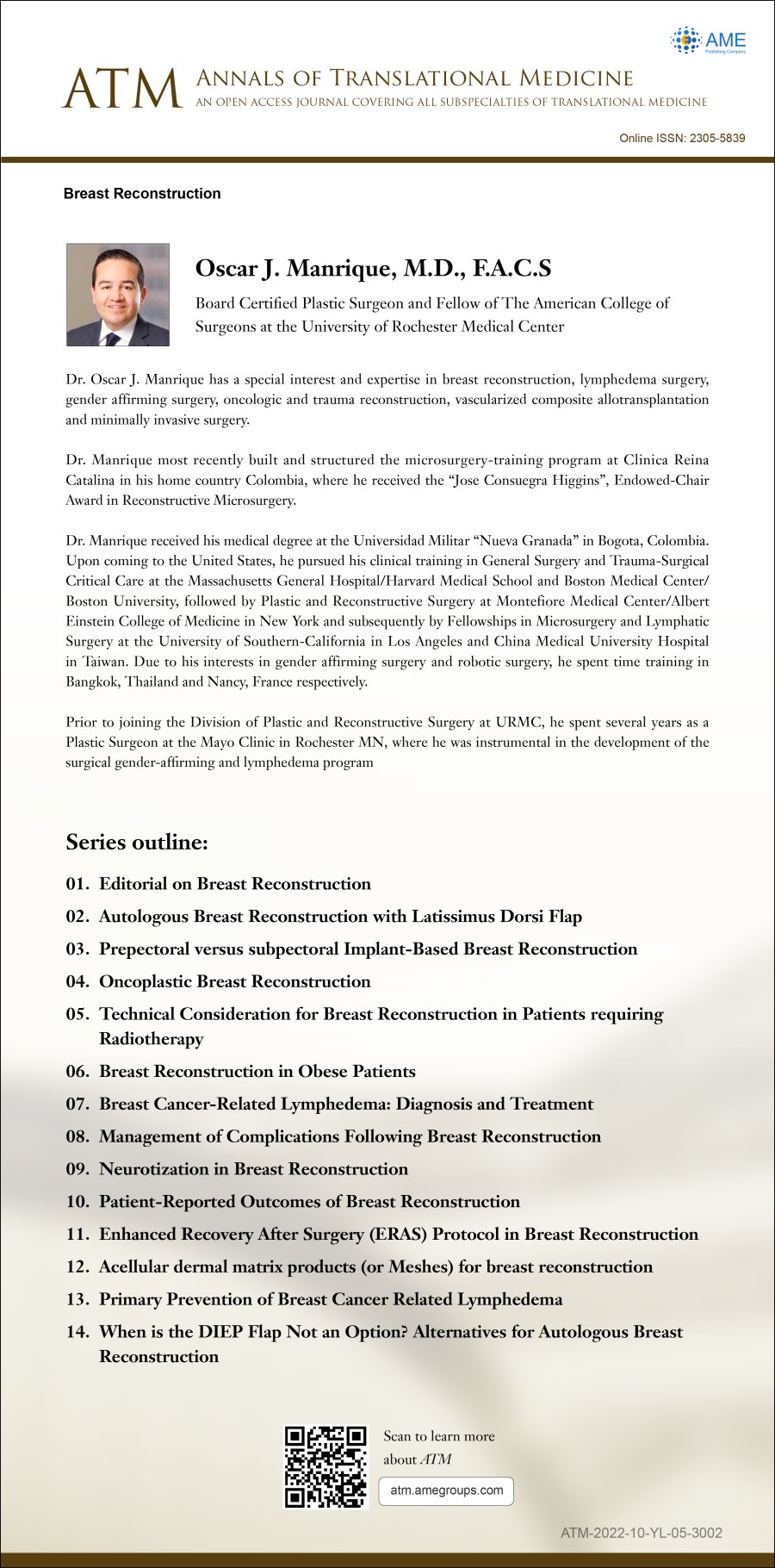 This special series on "Breast Reconstruction" is edited by Dr. Oscar J. Manrique from the University of Rochester Medical Center, and aims to provide an updated overview of the most recent acquisitions and future perspectives.
Oscar J. Manrique, M.D., F.A.C.S
Board Certified Plastic Surgeon and Fellow of The American College of Surgeons at the University of Rochester Medical Center
Dr. Oscar J. Manrique has a special interest and expertise in breast reconstruction, lymphedema surgery, gender affirming surgery, oncologic and trauma reconstruction, vascularized composite allotransplantation and minimally invasive surgery.
Dr. Manrique most recently built and structured the microsurgery-training program at Clinica Reina Catalina in his home country Colombia, where he received the "Jose Consuegra Higgins", Endowed-Chair Award in Reconstructive Microsurgery.
Dr. Manrique received his medical degree at the Universidad Militar "Nueva Granada" in Bogota, Colombia. Upon coming to the United States, he pursued his clinical training in General Surgery and Trauma-Surgical Critical Care at the Massachusetts General Hospital/Harvard Medical School and Boston Medical Center/Boston University, followed by Plastic and Reconstructive Surgery at Montefiore Medical Center/Albert Einstein College of Medicine in New York and subsequently by Fellowships in Microsurgery and Lymphatic Surgery at the University of Southern-California in Los Angeles and China Medical University Hospital in Taiwan. Due to his interests in gender affirming surgery and robotic surgery, he spent time training in Bangkok, Thailand and Nancy, France respectively.
Prior to joining the Division of Plastic and Reconstructive Surgery at URMC, he spent several years as a Plastic Surgeon at the Mayo Clinic in Rochester MN, where he was instrumental in the development of the surgical gender-affirming and lymphedema program.
Special Series Outline:
Editorial on Breast Reconstruction
Autologous Breast Reconstruction with Latissimus Dorsi Flap
Prepectoral versus subpectoral Implant-Based Breast Reconstruction
Oncoplastic Breast Reconstruction
Technical Consideration for Breast Reconstruction in Patients requiring Radiotherapy
Breast Reconstruction in Obese Patients
Breast Cancer-Related Lymphedema: Diagnosis and Treatment
Management of Complications Following Breast Reconstruction
Neurotization in Breast Reconstruction
Patient-Reported Outcomes of Breast Reconstruction
Enhanced Recovery After Surgery (ERAS) Protocol in Breast Reconstruction
Acellular dermal matrix products (or Meshes) for breast reconstruction
Primary Prevention of Breast Cancer Related Lymphedema
When the DIEP Flap is Not an Option? Alternatives for Autologous Breast Reconstruction
Disclosure:
The special series "Breast Reconstruction" was commissioned by the editorial office, Annals of Translational Medicine without any sponsorship or funding. OJM serves as an unpaid editorial board member of Annals of Translational Medicine from July 2022 to June 2024 and is serving as the unpaid Guest Editor for the special series.