Review Article on Translational Neurodegeneration
Tau in neurodegenerative disease
Introduction
Neurodegenerative diseases with abnormal tau inclusions are referred to as tauopathies, including Alzheimer disease (AD), frontotemporal dementia with parkinsonism-17 (FTDP-17), Pick disease (PiD), progressive supranuclear palsy (PSP) and corticobasal degeneration (CBD). AD, the most common cause of dementia, is diagnosed by extracellular plaques containing Aβ peptides and intracellular neurofibrillary tangles (NFTs) from hyperphosphorylated, insoluble and filamentous tau proteins in neuropathology (1). The discovery of mutations in the microtubule-associated protein tau (MAPT) gene in patients with FTDP-17 also contributes to a better understanding of the dysfunction tau as a cause of diseases (2). There are also numerous tau-related neurodegenerative diseases with various clinical and pathological features. However, the tau pathology is a critical event throughout the neurodegenerative process. Although recent substantial progress has been made in the tau pathology of tauopathies, the mechanisms underlying tau-induced neurodegeneration remain unclear.
The role of tau in neurodegenerative disease is now a hot research area. Here, we review and summarize the biochemical properties of tau protein and the pathogenesis underlying tau-induced neurodegenerative diseases. Meanwhile, we also consider the tau-related biomarkers and ongoing tau-targeted strategies for therapeutic modulation.
---
Tau protein
Molecular genetics, expression and structure of tau
The MAPT is encoded by a single gene, MAPT, which comprises 16 exons on chromosome 17q21 (Figure 1). The human tau protein is composed of four areas: an N-terminal region, a proline-rich domain, a microtubule-binding domain (MBD), and a C-terminal projection region (3). There are six main isoforms of tau expressed in the human brain, which are generated by alternative splicing around the N-terminal region [exon 2 (E2) and E3] and MBD (E10) (4). They differ from each other depending on the number of 29-aminoacid inserts, and the presence of three microtubule binding repeat sequences (3R) or 4R (5). The difference is that 4R tau has four microtubule binding repeat sequences due to the inclusion of E10, which is not included in 3R tau. In the normal human brain, there are equal amounts of 3R and 4R tau, but this ratio is often changed in neurodegenerative diseases.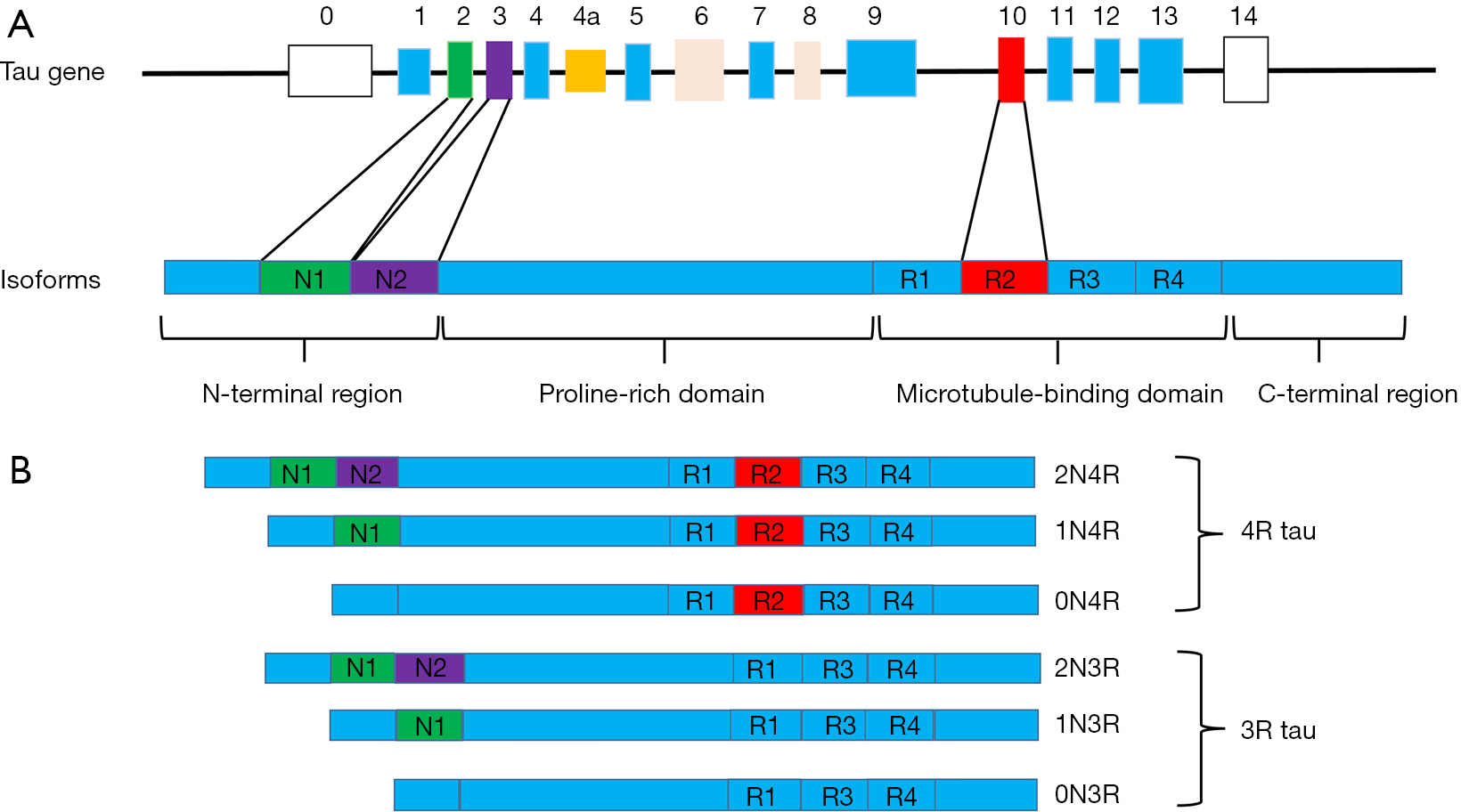 Figure 1 Tau gene and six isoforms in the human brain. (A) Tau gene, MAPT, comprises 16 exons (E). N1 and N2 is encoded by E2 (green) and E3 (purple), respectively. The repeat R2 is encoded by E10 (red). E1, E4, E5, E7, E9, E11, E12, and E13 constitute the basic component of tau protein. E0 and E14 are non-coding (white). E4a (yellow) is transcribed only in peripheral tissue. E6 and E8 are not expressed in human brain (pink). The tau isoform is composed of four areas: a N-terminal region, a proline-rich domain, a MBD, and a C-terminal projection region; (B) there are six main isoforms of tau expressed in the human brain, which are generated by alternative splicing E2, E3 and E10. There are equal amount of 3R and 4R tau in normal human brain. However, in neurodegenerative diseases, this balance is often broken.
Biological functions of tau
As a microtubule-associated protein, tau is supposed to be essential for the regulation of microtubule structure and dynamics by binding to the microtubule surface through the MBD and adjacent regions. Tau may regulate axonal transport by binding to the microtubule. Based on the graded distribution of the tau along the axon, the cargo can be detached from motor proteins, increasing axonal transport efficiency (6,7). With tau-knockout mice having been widely applied in the research, recent reports have revealed several novel functions of tau, such as maintenance of the integrity of genomic DNA (8,9), regulation of neuronal activity (10-13), neurogenesis (14,15), iron export (16) and long-term depression (LTD) (17,18). Understanding the additional functions of tau is not only essential to elucidate the tau pathogenesis, but is also necessary to ascertain the tau-based therapeutic strategy.
---
Tau in neurodegenerative diseases
Tau in Alzheimer's disease
With the aging of global population, AD is becoming one of the greatest health-care challenges in the twenty-first century (19). Over the past decade, significant advances have been reported in understanding the roles of tau in physiology and pathology.
Tau aggregation in AD
As a natively unfolded protein, tau presents little tendency for aggregation in structure. Evidence has revealed that the tau molecule might be prone to conformation change to make a paperclip-like structure in the presence of N-terminal, C-terminal and MBD (20). The paperclip-like shape might prevent from tau aggregation. Once this structure is broken, for example, hyperphosphorylation, these inhibitory domains of tau molecule will be neutralized and then tau protein self-assembles into tangles of PHF (21).
Tau aggregation could be affected by post-translational modifications. In particular, phosphorylation, as a common characteristic of AD, has been assumed to drive tau aggregation. Other post-translational modifications also show inhibition or promotion effects on tau aggregation, including O-GlcNAcylation (22), deamidation, isomerization (23), methylation (24), etc.
Experimental investigation shows that tau aggregation is essential for tau-induced toxicity. Tau aggregation may decrease levels of soluble functional tau, sequester other cell components or hinder axonal transport, finally resulting in neurodegeneration.
Tau phosphorylation and other post-translational modifications in AD
Generally, an appropriate amount of phosphorylation is necessary for the realization of physiological functions of tau, whereas the hyperphosphorylated state reduces its biological activity.
The state of phosphorylation of the tau protein is mainly modulated by various protein kinases and phosphatases. Tau is phosphorylated by several protein kinases, which are classified into three groups including proline-directed protein kinases (PDPKs), non-PDPKs and tyrosine kinases. It has been found that there were multiple combinations of PDPKs and non-PDPKs in the AD patients' brain, implying that they could be involved in the phosphorylation of tau (25). Besides, tau protein could also be phosphorylated by tyrosine kinases including the Src family kinases (SFKs), FYN and the ABL family kinases (26). What's more, tau hyperphosphorylation could also arise from the inhibition of phosphatases, including protein phosphatase1 (PP1), PP2A, PP2B, PP2C and PP5 (26), among which PP2A is the major phosphatase and accounts for more than 70% of the tau phosphatase activity in human brain (27). PP2A regulates the phosphorylation of tau directly or by regulating several tau protein kinases activity (28). It was observed that the PP2A activity has declined by 50% in brain of AD patients (27,29,30).
Hyperphosphorylation of tau-induced pathology is primarily through damaging the normal functions of tau. The affinity of tau to microtubules might be weakened by the hyperphosphorylation of tau in the repeat domain, causing microtubule instability and disassembly and then promoting tau self-aggregation (26). Other mechanisms of phosphorylated tau-induced toxicity have been investigated intensely already. For example, the phosphorylation of tau might induce tau missorting from axons to postsynaptic terminals or dendrites (31-33), alter its degradation and truncation (34,35), and affect the connection of tau with its interacting partners (36), leading to neurodegeneration in the end.
Apart from phosphorylation, tau is also subject to other post-translational modifications, such as tau acetylation (37-39), N-glycosylation (40), O-GlcNAcylation (41), nitration (42), ubiquitination (43,44), sumoylation (45), isomerization (46,47), and truncation (48,49). Although the exact roles of these modifications remain unclear so far, the importance of each tau post-translational modification during the pathological process could never be overlooked.
Tau oligomers and propagation of tau pathology in AD
Although NFT is a pathologic hallmark of AD, growing evidence shows that NFT formation may not be necessary for neurodegeneration. In wild-type or transgenic mice, synaptic loss, memory deficits and electrophysiological impairments develop before or without any eventual NFT formation (50). These data highlighted that neuronal toxicity might be induced by smaller, soluble tau species, possibly oligomers. Tau oligomers have been detected in brain tissues of AD patients and its level shows a relation with the degree of memory deficits (51). However, the role of tau oligomers still remains controversial. Based on the heterogeneity of oligomer preparations and different assay methods, some studies found that the tau oligomers made from tau aggregation would induce neuronal loss and cognitive dysfunction (52,53).
It is beyond doubt that the tau pathology could not be restricted to intracellular environment. Based on the Braak staging theory, tau pathology is firstly detected in the transentorhinal and entorhinal regions (stages I and II). Afterward, it was also observed in the hippocampus (stages III and IV) and was eventually widespread in the cortex (stages V and VI) (54) (Figure 2). Evidence shows that non-fibrillar oligomers of hyperphosphorylated tau are the endogenous form of tau involved in propagation in primary neurons (55). It is assumed that the pathological spread of tau oligomers (seeds) occurs through endocytosis, and trans-synaptic pathway by exosomes or synaptic vesicles transferring between neurons (56-59). Once drawn by postsynaptic neurons, tau seeds trigger tau aggregation subsequently. Now the propagation pattern of trans-synaptic spread has been widely accepted.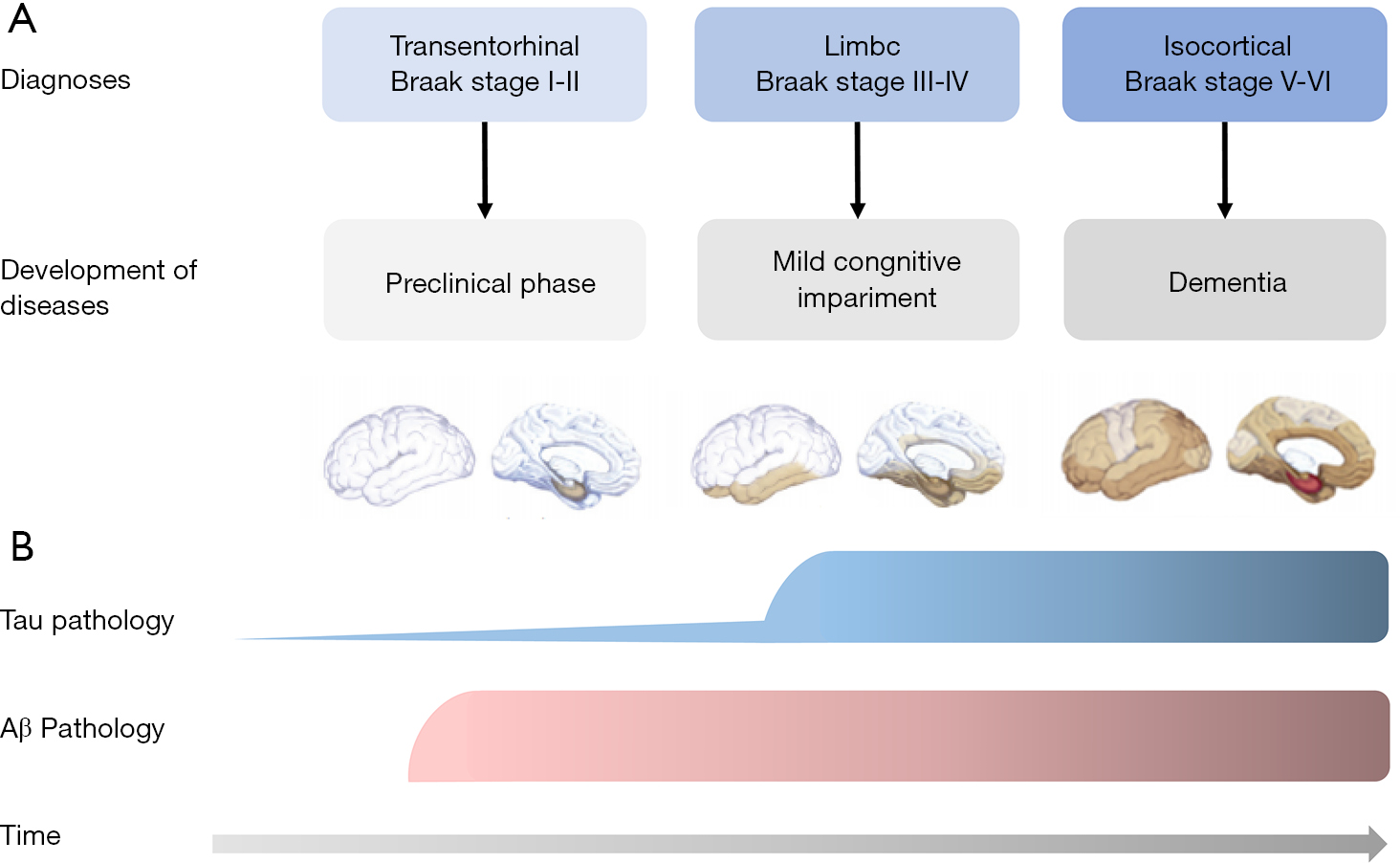 Figure 2 Pathological changes of tau and Aβ deposition in Alzheimer's disease as time progresses. (A) The progression of tau aggregation and deposition correlates closely with development of diseases. According to the Braak staging theory, tau pathology is first detected in the transentorhinal and entorhinal regions (Braak stages I and II), then observed in the hippocampus (stages III and IV) and later widespread in the cortex (stages V and VI); (B) while Aβ deposition starts early in Alzheimer's disease, tau pathology is seen prior to Aβ pathology in the brain and spreads throughout the course of disease. It levels are closely linked to the timing of symptom onset.
Tau and Aβ
AD is defined by the presence of amyloid plaques and neuronal tangles. There is considerable evidence suggesting that Aβ and tau play pivotal roles in the disease process. They could also influence and regulate the toxic effects of each other, whereas the regulatory mechanism of their interaction has not been identified so far.
Several experiments indicate that the formation of Aβ is considered as the trigger, or even the driver of the tau pathology, despite the fact that it's formed after the tau deposits. In neurons which were acutely exposed to Aβ, Aβ initiated tau-mediated neurotoxicity by facilitating tau phosphorylation (60) and directing pathogenic tau species into dendritic spines (33), leading to spine collapse and dendritic degeneration. Evidence shows that tau protein is essential for Aβ-induced neurotoxicity. Tau reduction could effectively protect the brain against Aβ by inhibiting neuronal over-excitation (61), excitotoxicity, memory deficits and premature mortality (62). According to the evidence, it is suggested that tau may mediate Aβ toxicity by modulating the tyrosine kinase (Fyn), which provides a link between Aβ and tau. Ittner et al. have demonstrated that knocking out tau or expressing truncated tau in transgenic mice disrupts postsynaptic targeting of Fyn, perturbs the NMDA receptor/PSD-95 interaction and then ameliorates Aβ toxicity (62). To elucidate the role of the Aβ-Fyn-tau triad in neuronal dysfunction might generate therapeutic benefit in AD (63).
Tau in frontotemporal dementia (FTD)
FTD is a collective term referring to a heterogeneous group of sporadic and familial neurodegenerative disorders that cause selective atrophy of the frontal and temporal lobes. Some tauopathies histopathologically show tau inclusions could play a part in the clinical development of FTD, for instance, FTDP-17 and PiD.
Tau gene mutations in FTDP-17
FTDP-17 is clinically defined as a neurodegenerative syndrome manifested by behavioral, cognitive and motor disturbances. To date, over 50 mutations have been confirmed in exonic and intronic domains. They can be classified into two categories, including missense mutations and splicing mutations, which affect the sequence of tau and influence the correlation proportion of different tau isoforms. It has been found that most of missense mutations localized in the MBD or the adjacent region can weaken the ability of tau to interact with microtubules and increase tendency for aggregation (64,65). In addition, missense mutations in C-terminal domain inhibit tau binding to microtubule and therefore promote microtubule assembly less efficiently, whereas axonal transport might be disordered by the disruption of the binding of tau to the dynactin complexin the N-terminal domain (66). Most splicing mutations occur in intron 10 and alter the ratio of 4R tau to 3R tau by increasing the inclusion of E10 (repeat R2), which results in the overproduction and the assembly of 4R tau into filaments. Comparatively speaking, 4R tau is a more favorable substrate for hyperphosphorylation than 3R-tau (67). In conclusion, tau mutations and an altered 3R:4R ratio can lead to the loss of normal function or a toxic gain of function, eventually leading to neurodegeneration.
Tau in PiD
Among a variety of the causes of frontotemporal dementia, PiD is rare, accounting for a small proportion of all dementia cases (68). The most common clinical manifestation is behavioral variant frontotemporal dementia (bvFTD) with frontotemporal atrophy (69). Besides, apraxia (70) and progressive nonfluent aphasia (PNFA) (71) have also been reported. The abovementioned clinical presentation could be determined by the distribution of pathologies. Pathologically, PiD is characterized by asymmetric, circumscribed cortical atrophy, which is associated with neuronal loss, gliosis and distinctive neuronal inclusions (Pick bodies). According to a classification scheme, PiD could be classified into three types, including type A (classic PiD, demonstrating both Pick bodies and Pick cells), type B (CBD, demonstrating only Pick cells) and type C (dementia lacking distinctive histology, exhibiting neither Pick bodies nor Pick cells) (72).
PiD is usually considered as a sporadic disease. However, the mutations in the MAPT in the majority of familial PiD cases whose cause pathology and clinical presentation are indistinguishable from sporadic PiD (73). Recent studies have developed a novel 3R mutant tau transgenic model to promote the understanding about the natural history, progression and therapy of PiD (74). Moreover, a novel missense mutant in E12 of MAPT (p.Q336H) has been found to cause PiD, possibly by increasing selective aggregation of 3R-tau isoforms (75).
Tau in PSP and CBD
PSP and CBD, as rare progressive neurodegenerative diseases, are often classified within the spectrum of 4R tauopathy disease. Pathologically, both CBD and PSP are characterized by the accumulation of tau-positive inclusions that contain predominant 4R tau in neuronal and glial cells. The neuronal lesion is the pretangles and tangles. Oligodendroglial lesion is the coiled bodies both in PSP and CBD. The hallmark astrocyte lesion is the tufted astrocyte and the astrocytic plaque in PSP and CBD, respectively (76,77). The morphologic features of cells lesion have been used to distinguish PSP and CBD (78-80) yet with no specific markers to be detected.
Although there is little to know about the genetics of CBD and PSP, several studies have proven that they have a common genetic underpinning. H1c, which is a common occurring haplotype in the tau gene, could contribute to disease pathogenesis probably through the impact upon the interplay of tau isoforms (81). In addition, there was an overlap of the clinical and pathologic features of patients with mutations in MAPT between PSP (82) and CBD (83).
Tau in other tauopathies
Varied clinical manifestations and pathological features have been shown by other tauopathies with tau deposits, such as Down's syndrome (DS), argyrophilic grain disease (AGD) and Parkinson's disease complex of Guam (PDC Guam). There are also numerous tau-related neurodegenerative diseases with various clinical and pathological features. However, tau pathology is a critical event throughout neurodegenerative process.
Tau as a biomarker for neurodegenerative diseases
As mentioned above, the levels of tau in patients of neurodegenerative diseases are correlated with neuronal dysfunction and degeneration in the brain. Numerous researches have consistently reported that tau levels in the cerebrospinal fluid (CSF) are prominently increased in patients with AD compared to controls (84). Therefore, CSF, a method of accessing and evaluating brain metabolism, can be used to reflect the tau pathology and evaluate the effectiveness of therapeutics. Tau, serving as a core CSF biomarker for AD, including total tau (T-tau) and hyperphosphorylated tau (P-tau), has been successfully obtained by ELISA. T-tau is correlated with the intensity of neurodegeneration, while P-tau reflects the neurofibrillary pathological changes (85). Measuring these tau species could also contribute to the classification of AD from relevant differential diagnoses. P-tau181 and P-tau231 can be used to distinguish AD from control groups, FTD and dementia with Lewy bodies (86). As blood is more accessible than CSF, the tau proteins in plasma would be worthy of detection. There has been considerable data reporting that patients with MCI or early AD have higher plasma tau levels by using an immunomagnetic reduction assay (87). It is necessary to improve the specificity and enhance the accuracy for assays in order to make them useful for diagnosis and treatment of neurodegenerative disease.
Furthermore, as the tau imaging for neurofibrillary pathology has already been established, several potential imaging biomarkers have been developed in the past few years, including [18F]THK5117, [18F]THK5351, [18F]AV1451 (T807) and [11C]PBB3 (88). They bind to the tau in brain of neurodegenerative diseases and can track disease progression. In this stage, enhancing spatial resolution and specificity is the primary task.
---
Tau as a therapeutic target for neurodegenerative diseases
Microtubule stabilization
The dysfunction of tau protein, as mentioned above, is often associated with microtubule instability. Microtubule disruption has been described in several models, including transgenic mice overexpressing wild-type human tau (T44 model) or P301S human 4R1N tau (PS19 model) (89,90). The results of these studies have shown that maintaining microtubule stabilization could be an effective therapeutic strategy. The microtubule stabilizer epothilone D, which has favorable pharmacokinetic and pharmacodynamic profile, improves axonal transport and motor function and also increases the number of microtubules in transgenic mouse lines (91,92). Phase I clinical trials for mild AD have been carried out. Another microtubule stabilizer, davunetide (also referred to as NAP, a short peptide), was undergoing a phase II/III trial in PSP. However, it does not have any therapeutic benefit (93).
Inhibition of tau aggregation
Inhibiting tau aggregation is a promising therapeutic avenue. Phenothiazine methylene blue, which was considered as the first compound to prevent tau aggregation (94), demonstrated great efficiency in treating cognitive deficits in a phase II trial in mild to moderate AD. A derivative of methylene blue (LMTX) is undergoing phase III trials (95). In addition, evidence showed that several D-amino acid peptides relying intensively on the atomic structure of the tau-derived hexapeptide VQIVYK also inhibited tau aggregation in vitro (96).
Targeting post-translational modifications
The hyperphosphorylation of tau is believed to be an extremely important and necessary step in tau-mediated neurodegeneration, which can be achieved by inhibiting kinases or stimulating phosphatases, and thus it will be a therapeutic target for AD and other tauopathies.
Many tau kinases involving AD, GSK-3 and CDK5 are considered as the best targets for treatment (97-99). Tideglusib (NP-12), a specific GSK-3 inhibitor, has been tested in phase II clinical trials in AD and PSP. In AD, tideglusib produced no clinical benefit (100); whereas it reduced the progression of brain atrophy in PSP (101). Other kinases (CDK5, CK1 and MAPKs) are also considered as targets for the inhibition of tau phosphorylation. However, they have not entered clinical trials to date yet. PP2A, as the main tau phosphatase, has been applied as another therapeutic target. It consists of a catalytic (C), a scaffolding (A), and a regulatory (B) subunits. Folic acid, presenting at low concentrations in AD patients, contributes to increased homocysteine levels and promotes the methylation of PP2Ac, subsequently increasing the formation of active PP2A (102,103). Similarly, it was found that the anti-diabetic drug metformin and chronic low doses of sodium selenite also enhanced PP2A activity and weakened tau phosphorylation in mice (104,105).
Clearance of tau and tau pathology
Another attractive strategy is to enhance the clearance of tau and tau pathology. As we all know, the ubiquitin-proteasome and lysosomal pathways are considered as the major routes of tau degradation. Soluble tau mainly depends on the former. The carboxy-terminus of heat shock protein 70-interacting protein (CHIP), which is identified as the ubiquitin ligase, bonds with the phosphorylated tau, cooperates with ubiquitin and subsequently target tau to the proteasome (106). In the JNPL3 model (overexpressing P301L human 4R0N tau mice), the reduction of CHIP increased the accumulation of tau while reduced the CHIP levels in AD brains (107). Moreover, CHIP in collaboration with the Hsp90 chaperone complex also plays a critical role in tau degradation. Hsp90 levels were inversely proportional to tau oligomers and soluble tau (108). Thus, enhancing the ubiquitin-proteasome function could be considered as a valid therapeutic strategy for tauopathies.
In addition, aggregation of considerable tau could be degraded by the autophagy lysosomal system, including macroautophagy, microautophagy and chaperone mediated autophagy. Seemingly, using rapamycin [activates autophagy in rapamycin (mTOR)-dependent manner] or trehalose (activates autophagy in an mTOR-independent manner) serves as an effective approach to stimulate autophagy, reduce the amount of insoluble tau protein and suppress the tau-induced neurotoxicity (109-111).
Tau immunization
Immunotherapy is deemed as a promising therapeutic strategy for tauopathies. Based on the seven studies (five studies with active immunization against tau and two studies with passive immunization), both active and passive vaccinations have shown positive impacts on tau transgenic mice (112-118). Recently, Kfoury et al. reported that the tau aggregate propagation was blocked by an anti-tau monoclonal antibody in an in vitro system (119). Possibly, the antibodies also enter into neurons and decrease intracellular tau aggregates. Such antibodies might enter neurons via clathrin-mediated endocytosis following the binding to Fcγ receptors and prevent progressive neurodegeneration (120). The mode of activity of the tau-specific antibodies is still unknown.
Anti-inflammatory treatments
As known to all, inflammation significantly contributes to AD pathogenesis and also plays an important role in other tauopathies (121,122). Thus, treatments with anti-inflammatory drugs could also be an effective therapeutic target for tauopathies. Transgenic mice deprived of the microglial-specific fractalkine receptor CX3CR1, which exerts an anti-inflammatory impact on microglia, showed aggravating tau pathologies (123). Consistent with this result, experiments with overexpression fractalkine receptor null mice suggested that fractalkine signaling reduced the amount of tau pathologies (124). Several clinical trials targeting inflammation have been conducted, but the results are unclear.
Down-regulation of tau
Although which entities carry out neurotoxic functions in tauopathies is still unclear, studies concerning tau-knockout mice have demonstrated that tau levels are important for tau-mediated neurodegeneration. As an attractive treatment approach, down-regulation of tau might be achieved through antisense oligonucleotides, microRNAs (miRNAs), small interfering RNAs (siRNAs) or other transcription inhibitors.
---
Conclusions
Hyperphosphorylated, aggregated tau is a central neuropathological characteristic of AD and many human neurodegenerative diseases. Since the discovery of mutations in the MAPT gene, considerable reports have been published on the role of tau in recent years. Depending on the development of various tau transgenic animal models, we have made substantial progress in tau-dependent pathologies, including the propagation of tau pathology from neurons to other cells and the interplay between Aβ and tau. Depending on those pathologies and tau-related biomarkers, new therapeutic approaches have been obtained (Figure 3). Nevertheless, the aetiological factors that initiate neurodegeneration and the precise mechanisms underlying tau-mediated neurotoxicity still need to be elucidated. We sincerely hope that further efforts could be made to clarify the role of tau in neurodegenerative diseases and advance more potential drugs into clinical trials.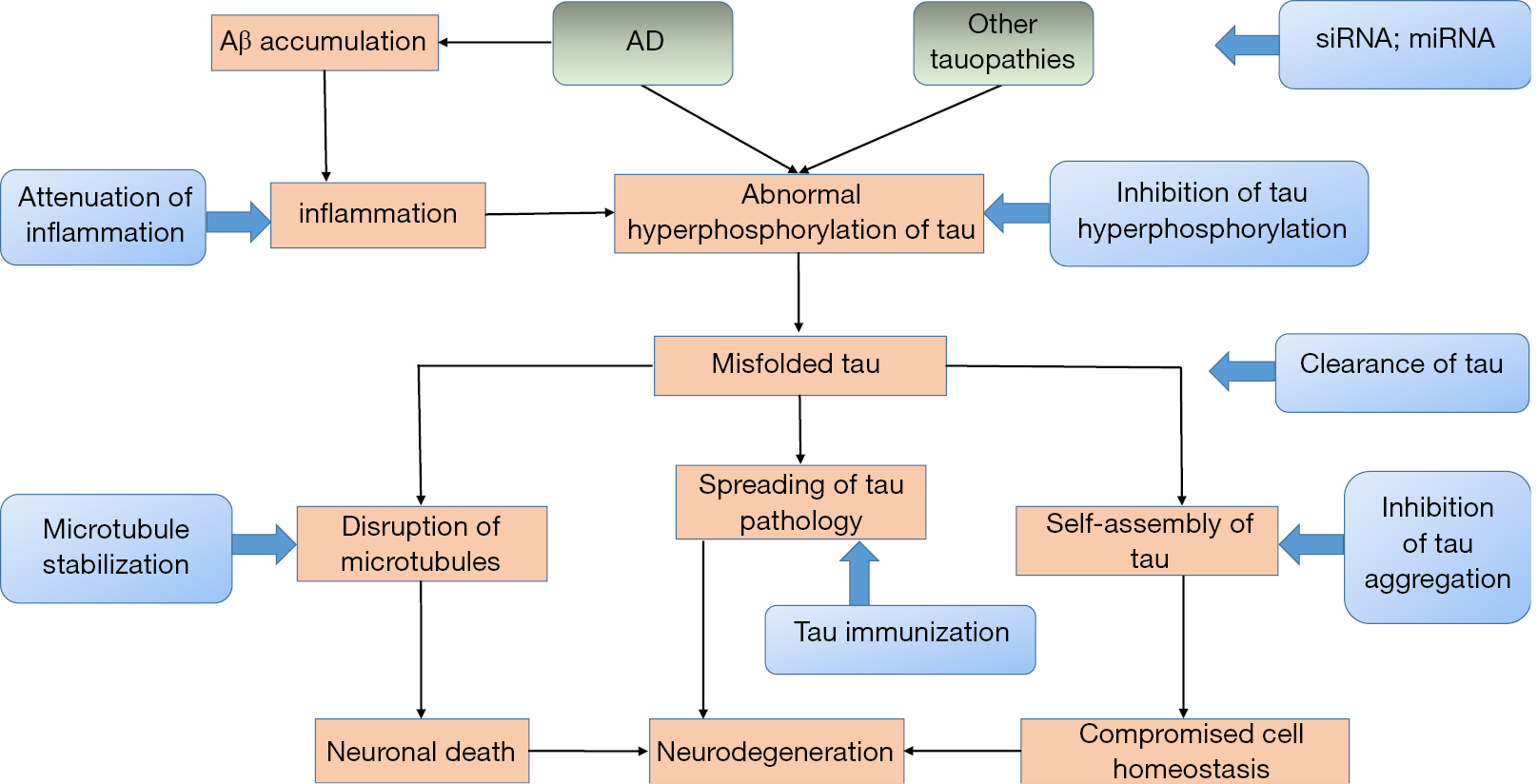 Figure 3 Tau as a therapeutic target for neurodegenerative diseases. Tau-directed various therapeutic strategies consist of maintaining microtubule stabilization, inhibition of tau aggregation, targeting post-translational modification, clearance of tau and tau pathology, tau immunization, anti-inflammatory treatments and down-regulation of tau.
---
Acknowledgements
This work was supported by grants from the Shandong Provincial Outstanding Medical Academic Professional Program, Qingdao Key Health Discipline Development Fund, Qingdao Outstanding Health Professional Development Fund, and Shan dong Provincial Collaborative Innovation Center for Neurodegenerative Disorders.
---
Footnote
Conflicts of Interest: The authors have no conflicts of interest to declare.
---
References
Cite this article as: Gao YL, Wang N, Sun FR, Cao XP, Zhang W, Yu JT. Tau in neurodegenerative disease. Ann Transl Med 2018;6(10):175. doi: 10.21037/atm.2018.04.23