Editors-in-Chief
Prof. Dr. Xuehao Wang, MD
Academician of the Chinese Academy of Engineering, director of the Institute of Liver Surgery, the First Affiliated Hospital of Nanjing Medical University, Nanjing, China
Dr. Prof. Wang received his medical master degree from Nanjing Medical University in 1982. He was trained on liver surgery in the University of Pittsburgh-Pittsburgh between September 1983 and October 1985.
Dr. Prof. Wang is an Academician of the Chinese Academy of Engineering, Professor (grade A), tutor of doctoral candidates, chief physician. Currently he is the director of the Institute of Liver Surgery, the First Affiliated Hospital of Nanjing Medical University, director of the clinical key discipline of organ transplantation of the National Health and Family Planning Commission (NHFPC), director of key laboratory, member of the human organ transplantation expert group, chief of the Group of Transplant Immunology, Chinese Medical Association, director of Liver Transplantation Center of Jiangsu Province, and vice president of Medical Association of Jiangsu Province. He is the member of the editorial boards of top journals including HBPT INT, WJG, Chinese Journal of Organ Transplantation, Chinese Journal of Digestive Surgery, and Chinese Journal of Bases and Clinics in General Surgery.
Dr. Wang is a pioneer in living donor liver transplantation (LDLT) in mainland China and also one of the few scholars who adopted LDLT in clinical practices worldwide. In mainland China, Dr. Wang for the first time established a standard technical system for LDLT and promoted this technique nationwide. His unremitting efforts paved the way for the wide adoption of LDLT. His innovative insights about the basics and clinical application of living related liver donor transplantation for Wilson's disease bring new light to the surgical treatment of this disease. Early in June 1986, he was the first Chinese author that reported the role of hepatic artery angiography with iodinated oil in the diagnosis of liver cancer, which paved the way for the modern interventional treatment for liver cancer in China. In November 2012, under his leadership and supervision, the resected liever specimens carrying hemangioma, which had been discarded in conventional practices, were transplanted into liver cancer patients, and the outcomes were quite good. This attempt provided new insight for the maximal use of marginal liver in liver transplantation. In recent years, he has carried out or completed 4 research projects supported by the National Natural Science Fund and/or National "Eighth Five-year" Science and Technology Research Program, over 30 projects supported by provincial or ministerial research funds, and over 30 projects supported by the provincial health authorities or the Nanjing Medical University. The overall grants exceed 20 million RMB yuan. As the principal investigator, he was the winner of one National Scientific and Technological progress Award (second prize), one Jiangsu Provincial Science and Technology Progress Award (first prize), and six provincial or ministerial research awards (second prizes). His honorable titles included "National Health System Excellent Worker", "Norman Bethune-style Medical Staff", "Advanced Worker", and "Nanjing 's City Hero in Science and Technology". He was the winner of the "Award for Outstanding Contributions in Medicine" and the "Jiangsu Province Outstanding Medical Award". In 2015, he won the noble title of "National Advanced Worker". He has obtained 3 invention patents. He has published over 400 scientific articles, among which 85 were published in SCI-indexed journals (as the first author or corresponding author). He is the editor, deputy editor, or contributor of 20 monographs. Among his students, 1 has been titled as the Cheung Kong Scholar, 1 was the winner of the National Outstanding Youth Fund, 1 was listed in the Jiangsu Province Leading Talents and 5 as Key Talents, 10 were listed in the Jiangsu Province 333 Engineering Talents, and 11 were listed as the Peak Talents in Six Key Disciplines.
---
Prof. Dr. Jianxing He, MD, FACS
Department of Cardiothoracic Surgery, The First Affiliated Hospital of Guangzhou Medical University, Guangzhou, Guangdong, China
Dedicated to clinical work for over 35 years, Dr. He has specialized in clinical, basic, and translational research related to lung cancer surgery. Dr. He has performed more than 10,000 surgeries, including heart-lung transplantation, lung transplantation, and minimally invasive surgery for lung cancer.
Besides his rich clinical experience, Dr. He also has an extensive and impressive array of research experience. He has undertaken or is currently undertaking more than 30 scientific projects supported by the National 863 Program and National Science Foundation. Dr. He has published a total of 572 scientific papers in thoracic surgery, including 239 articles published in Chinese journals and 333 articles published in English journals indexed by SCIE, most of which are the internationally esteemed peer reviewed journals, e.g., NEJM, Lancet, Cell, Lancet Oncology, Nature Medicine, BMJ, JCO, and JAMA INTERN MED. Dr. He has a total impact factor ranking of 2,104.082 combined from his published journals, with a total citation number of his published works reaching 13,691. His H-index was 47.
---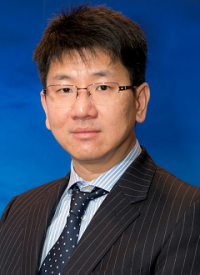 Calvin S. H. Ng
Department of Surgery, The Chinese University of Hong Kong, Prince of Wales Hospital, Shatin, N.T., Hong Kong, China
Research interests: thoracic surgery, lung surgery, chest wall, mediastinum, some basic science
Dr Ng is Professor in Thoracic Surgery at Prince of Wales Hospital, The Chinese University of Hong Kong, and Honorary Consultant Surgeon at New Territory East Cluster (NTEC) hospitals in Hong Kong. He graduated from Imperial College, London in 1999 with BSc (1st Class Honours and 1st in his class), and MBBS (Honours, Distinction in Surgery, Anthony de Rothschild Medal 1st in surgery).
He spent time working for Lord Sir Ara Darzi, Prof. Anthony P.C. Yim in Hong Kong, and as Specialist Registrar and Honorary Research Fellow at the Queen Elizabeth Hospital, University of Birmingham for Mr. Timothy R Graham. He was awarded FRCSEd(CTh) in 2007, and subsequently Doctorate of Medicine in Research (MD(Res)) from University of London for his work on ventilator induced and IR lung injury.
Dr Ng is a pioneer in Single Port (Uniportal) VATS in the Asia-Pacific region, performing the first single port VATS lobectomy in Hong Kong in 2012. His interest in hybrid operating room (HOR) image-guided surgery led to world's first publications of HOR use in single port VATS major lung resection in 2015, and image-guided electromagnetic navigation bronchoscopy (iENB) in 2016. In March 2019, he led his world renowned HOR-iENB team to perform Asia-Pacific's first HOR non-invasive bronchoscopic microwave ablation for treatment of lung cancer. He is a Co-PI of NAVABLATE, the international study on bronchoscopic microwave ablation for treatment of lung cancer, and is also investigating utilization of robotic assisted bronchoscopy in diagnosis and therapy.
His academic contributions include book chapters in Pearson's Thoracic & Esophageal Surgery 3rd & 4th Eds, Shield's Thoracic Surgery 8th Eds, and more than 230 publications in indexed international journals. Dr Ng is the corresponding Editor of the book Atlas of Uniportal Video Assisted Thoracic Surgery (Springer Science), and Associate Editor of the book Lung Cancer.
Dr Ng supervises a team of postgraduate students to study molecular biology of lung cancer and therapeutic role of ablation for lung diseases. He closely collaborates with Departments of Clinical Oncology (led by Prof Tony Mok), Anatomical Cellular Pathology and Biomechanical Engineering, through several competitive grants to study targeted therapies in lung cancer, magnetic actuated surgical endoscopes, organoids and nanoparticles in cancer therapy.