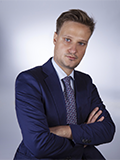 Riccardo D'Ambrosi, MD
C.A.S.C.O. department, IRCCS Orthopedic Institute Galeazzi, Milan, Italy.
Dr. Riccardo D'Ambrosi was born in Milan (Italy) on January the 7th, 1987. He has taken the degree in Medicine in 2012 at the University of Milan and the specialization in Orthopedics and Traumatology in 2018. As regards the scientific activity, he has published more than 40 articles in peer-reviewed journals indexed on PubMed, his Hirsch Index (H-index) is 7 (Scopus, last update to 12/9/2018) . He has participated to more than 50 national and international congresses. He has recently been awarded with the 2016 "Best Oral Communication" at the national congress of the shoulder and elbow society (SICSeG).
Riccardo D'Ambrosi is also a reviewer for some of the orthopedics journal with the highest impact factor. The main areas of research include cartilage regeneration, shoulder and knee arthroscopy, shoulder instability, anterior cruciate ligament, sports medicine and regenerative medicine as regards the use of scaffold and growth factors, such as PRP and adipose-derived stem cells
Terms of Appointment: Nov 2018 - Oct 2020
Articles Published in Annals of Translational Medicine
* Osteochondral lesions of the talus: are we ready for metal?