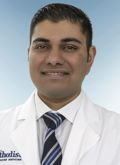 Waqar Haque, MD
Assistant Professor of Clinical Radiation Oncology, Weill Cornell Medical College, Assistant Clinical Member, Houston Methodist Research Institute, Radiation Oncologist, Houston Methodist West Hospital, Houston, TX, USA
Dr. Haque is a native Houstonian and graduated as a member of the Alpha Omega Alpha Medical Honor Society from the Baylor College of Medicine in 2010. He completed residency in radiation oncology at the University of Texas Medical Branch in Galveston, during which he also spent time training at the MD Anderson Cancer Center. He has been practicing in Houston since 2015. He is currently a practicing radiation oncologist for Houston Methodist West Hospital and an Assistant Professor of Clinical Radiation Oncology at Weill Cornell Medical College.
Dr. Haque has conducted numerous clinical investigations regarding the patterns of care of radiation therapy within the U.S., efficacy of radiation therapy and stereotactic body radiation therapy, and the toxicity associated with radiation therapy for treatment of different cancers.
Dr. Haque has co-authors over 60 manuscripts in peer- reviewed journals, and he has given presentations of his research at oncology research conferences around the United. States. Additionally, he helps to write exam questions for the in- training exam for radiation oncology residents.
He is a member of the American Society for Radiation Oncology, American College of Radiology, and American College of Radiology. Furthermore, he is an elected officer for the Texas Radiological Society within the division of Radiation Oncology.
Terms of Appointment: Feb 2019- Jan 2021