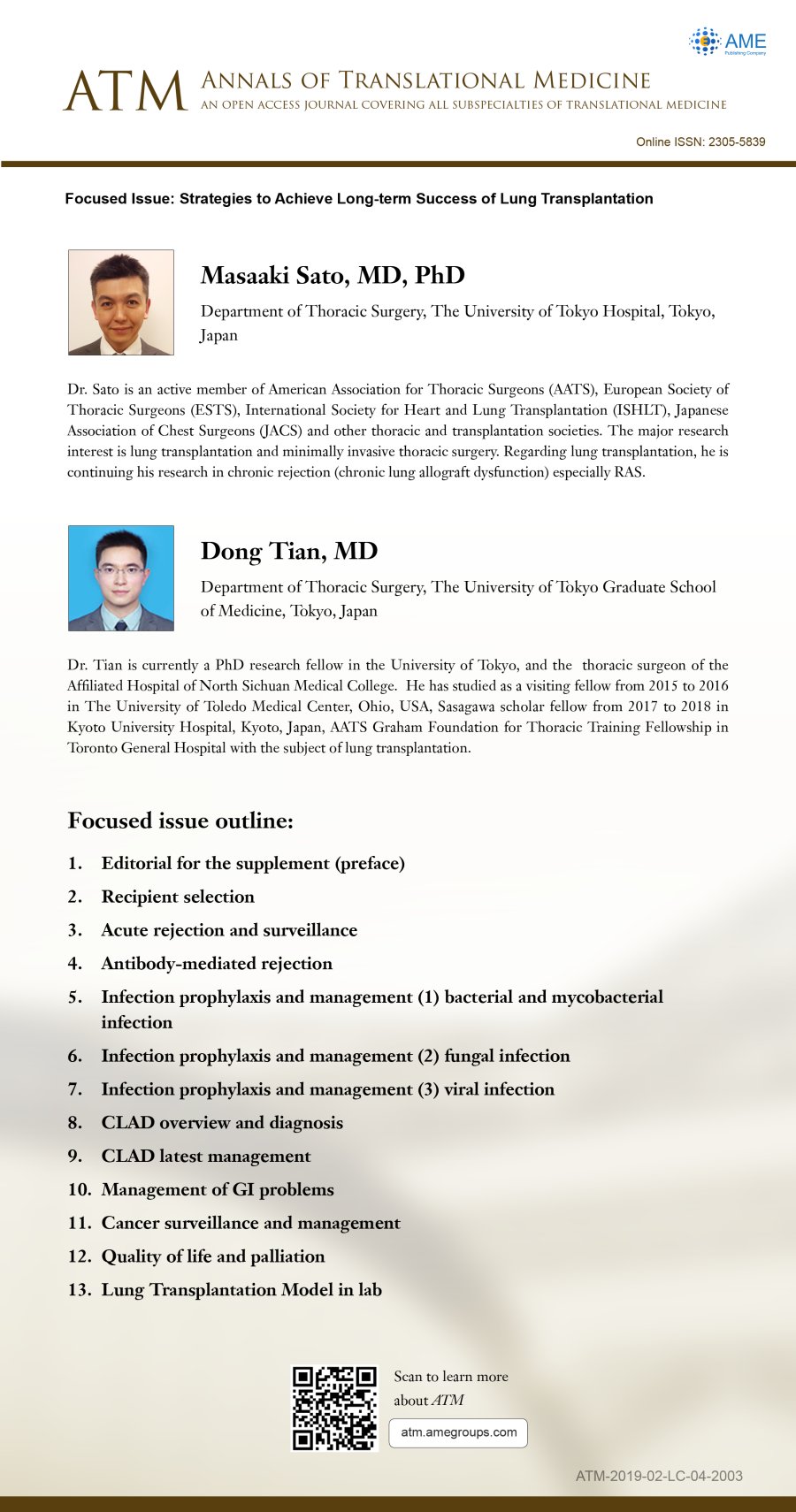 This focused issue on "Strategies to Achieve Long-term Success of Lung Transplantation is edited by Dr. Masaaki Sato and Dr. Dong Tian, Department of Thoracic Surgery, The University of Tokyo Hospital, Tokyo, Japan.

Dr. Masaaki Sato is an active member of American Association for Thoracic Surgeons (AATS), European Society of Thoracic Surgeons (ESTS), International Society for Heart and Lung Transplantation (ISHLT), Japanese Association of Chest Surgeons (JACS) and other thoracic and transplantation societies. The major research interest is lung transplantation and minimally invasive thoracic surgery. Regarding lung transplantation, he is continuing his research in chronic rejection (chronic lung allograft dysfunction) especially RAS.

Dr. Dong Tian is currently a PhD research fellow in the University of Tokyo, and the thoracic surgeon of the Affiliated Hospital of North Sichuan Medical College. He has studied as a visiting fellow from 2015 to 2016 in The University of Toledo Medical Center, Ohio, USA, Sasagawa scholar fellow from 2017 to 2018 in Kyoto University Hospital, Kyoto, Japan, AATS Graham Foundation for Thoracic Training Fellowship in Toronto General Hospital with the subject of lung transplantation.


Focused issue outline:
Editorial for the supplement (preface)
Recipient selection
Acute rejection and surveillance
Antibody-mediated rejection
Infection prophylaxis and management (1) bacterial and mycobacterial infection
Infection prophylaxis and management (2) fungal infection
Infection prophylaxis and management (3) viral infection
CLAD overview and diagnosis
CLAD latest management
Management of GI problems
Cancer surveillance and management
Quality of life and palliation
Lung Transplantation Model in lab