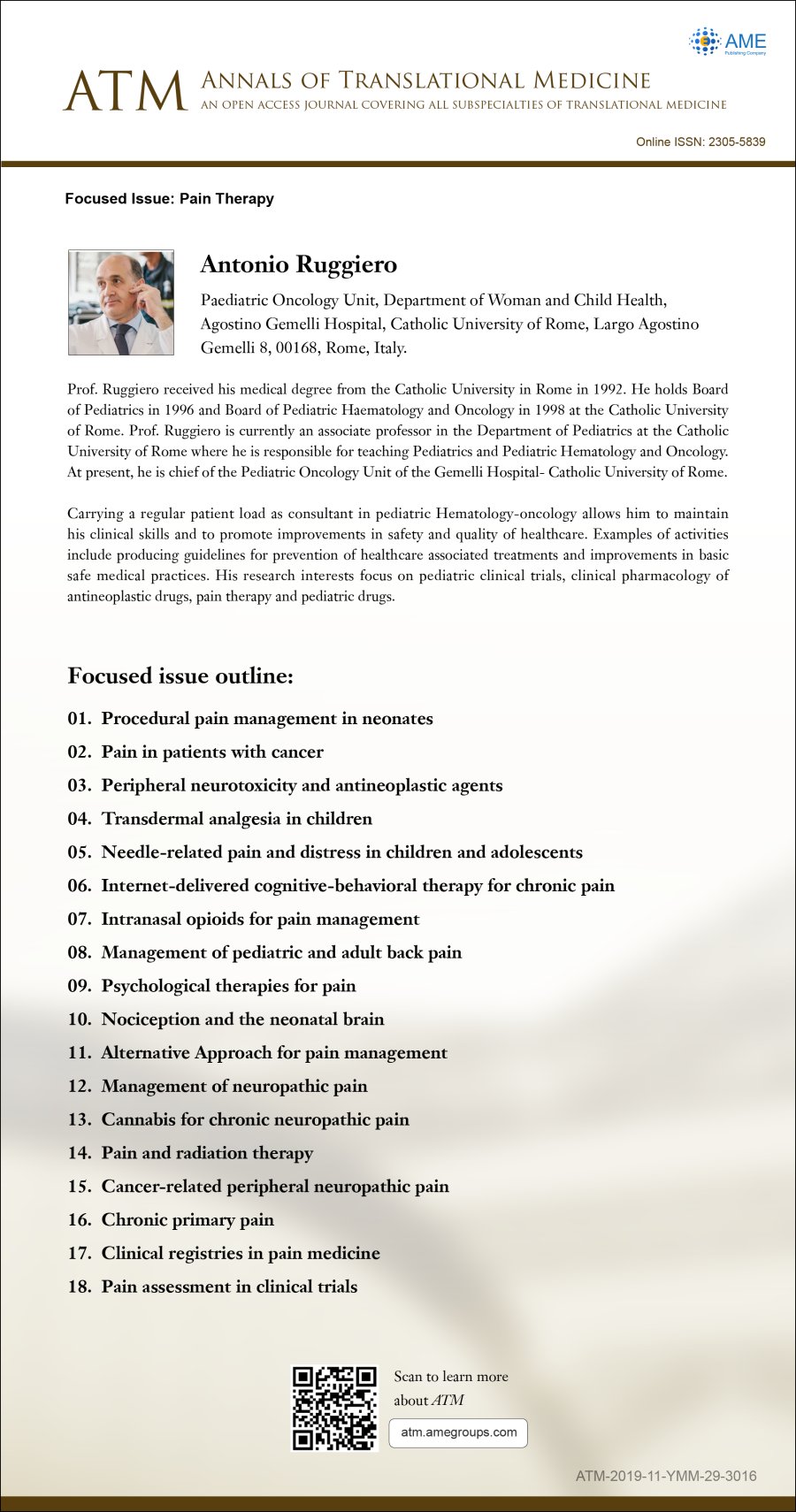 This Focused Issue on "Pain Therapy" is edited by Dr. Antonio Ruggiero from Paediatric Oncology Unit, Department of Woman and Child Health, Agostino Gemelli Hospital, Catholic University of Rome, Largo Agostino Gemelli 8, 00168, Rome, Italy.
Prof. Ruggiero received his medical degree from the Catholic University in Rome in 1992. He holds Board of Pediatrics in 1996 and Board of Pediatric Haematology and Oncology in 1998 at the Catholic University of Rome. Prof. Ruggiero is currently an associate professor in the Department of Pediatrics at the Catholic University of Rome where he is responsible for teaching Pediatrics and Pediatric Hematology and Oncology. At present, he is chief of the Pediatric Oncology Unit of the Gemelli Hospital- Catholic University of Rome.
Carrying a regular patient load as consultant in pediatric Hematology-oncology allows him to maintain his clinical skills and to promote improvements in safety and quality of healthcare. Examples of activities include producing guidelines for prevention of healthcare associated treatments and improvements in basic safe medical practices. His research interests focus on pediatric clinical trials, clinical pharmacology of antineoplastic drugs, pain therapy and pediatric drugs.
Focused issue outline:
Procedural pain management in neonates
Pain in patients with cancer
Peripheral neurotoxicity and antineoplastic agents
Transdermal analgesia in children
Needle-related pain and distress in children and adolescents
Internet-delivered cognitive-behavioral therapy for chronic pain
Intranasal opioids for pain management
Management of pediatric and adult back pain
Psychological therapies for pain
Nociception and the neonatal brain
Alternative Approach for pain management
Management of neuropathic pain
Cannabis for chronic neuropathic pain
Pain and radiation therapy
Cancer-related peripheral neuropathic pain
Chronic primary pain
Clinical registries in pain medicine
Pain assessment in clinical trials