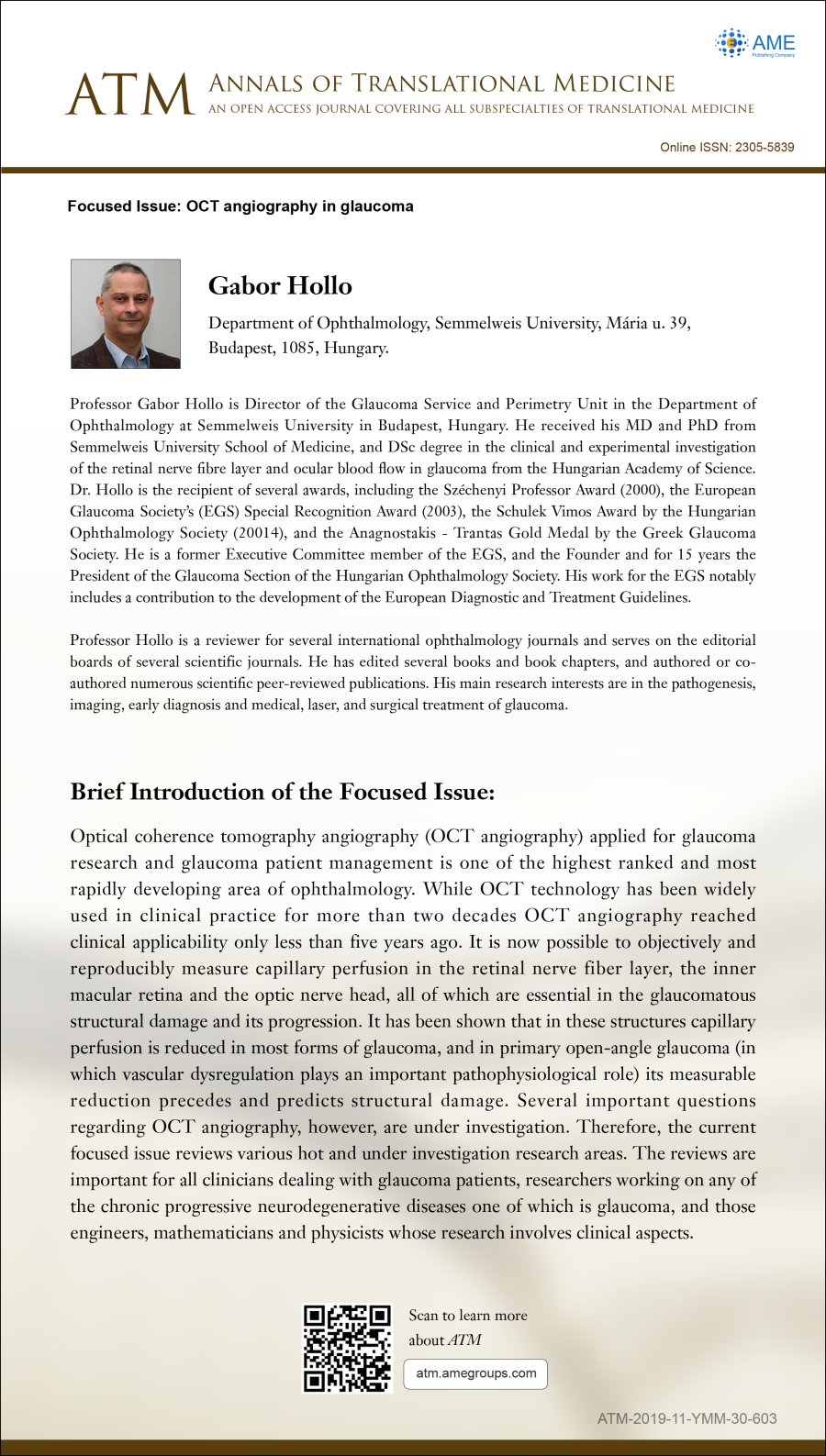 This Focused Issue on "OCT angiography in glaucoma" is edited by Dr. Gabor Hollo, Department of Ophthalmology, Semmelweis University, Mária u. 39, Budapest, 1085, Hungary.
Professor Gabor Hollo is Director of the Glaucoma Service and Perimetry Unit in the Department of Ophthalmology at Semmelweis University in Budapest, Hungary. He received his MD and PhD from Semmelweis University School of Medicine, and DSc degree in the clinical and experimental investigation of the retinal nerve fibre layer and ocular blood flow in glaucoma from the Hungarian Academy of Science. Dr. Hollo is the recipient of several awards, including the Széchenyi Professor Award (2000), the European Glaucoma Society's (EGS) Special Recognition Award (2003), the Schulek Vimos Award by the Hungarian Ophthalmology Society (20014), and the Anagnostakis - Trantas Gold Medal by the Greek Glaucoma Society. He is a former Executive Committee member of the EGS, and the Founder and for 15 years the President of the Glaucoma Section of the Hungarian Ophthalmology Society. His work for the EGS notably includes a contribution to the development of the European Diagnostic and Treatment Guidelines.
Professor Hollo is a reviewer for several international ophthalmology journals and serves on the editorial boards of several scientific journals. He has edited several books and book chapters, and authored or co-authored numerous scientific peer-reviewed publications. His main research interests are in the pathogenesis, imaging, early diagnosis and medical, laser, and surgical treatment of glaucoma.
Brief Introduction of the Focused Issue
Optical coherence tomography angiography (OCT angiography) applied for glaucoma research and glaucoma patient management is one of the highest ranked and most rapidly developing area of ophthalmology. While OCT technology has been widely used in clinical practice for more than two decades OCT angiography reached clinical applicability only less than five years ago. It is now possible to objectively and reproducibly measure capillary perfusion in the retinal nerve fiber layer, the inner macular retina and the optic nerve head, all of which are essential in the glaucomatous structural damage and its progression. It has been shown that in these structures capillary perfusion is reduced in most forms of glaucoma, and in primary open-angle glaucoma (in which vascular dysregulation plays an important pathophysiological role) its measurable reduction precedes and predicts structural damage. Several important questions regarding OCT angiography, however, are under investigation. Therefore, the current focused issue reviews various hot and under investigation research areas. The reviews are important for all clinicians dealing with glaucoma patients, researchers working on any of the chronic progressive neurodegenerative diseases one of which is glaucoma, and those engineers, mathematicians and physicists whose research involves clinical aspects.