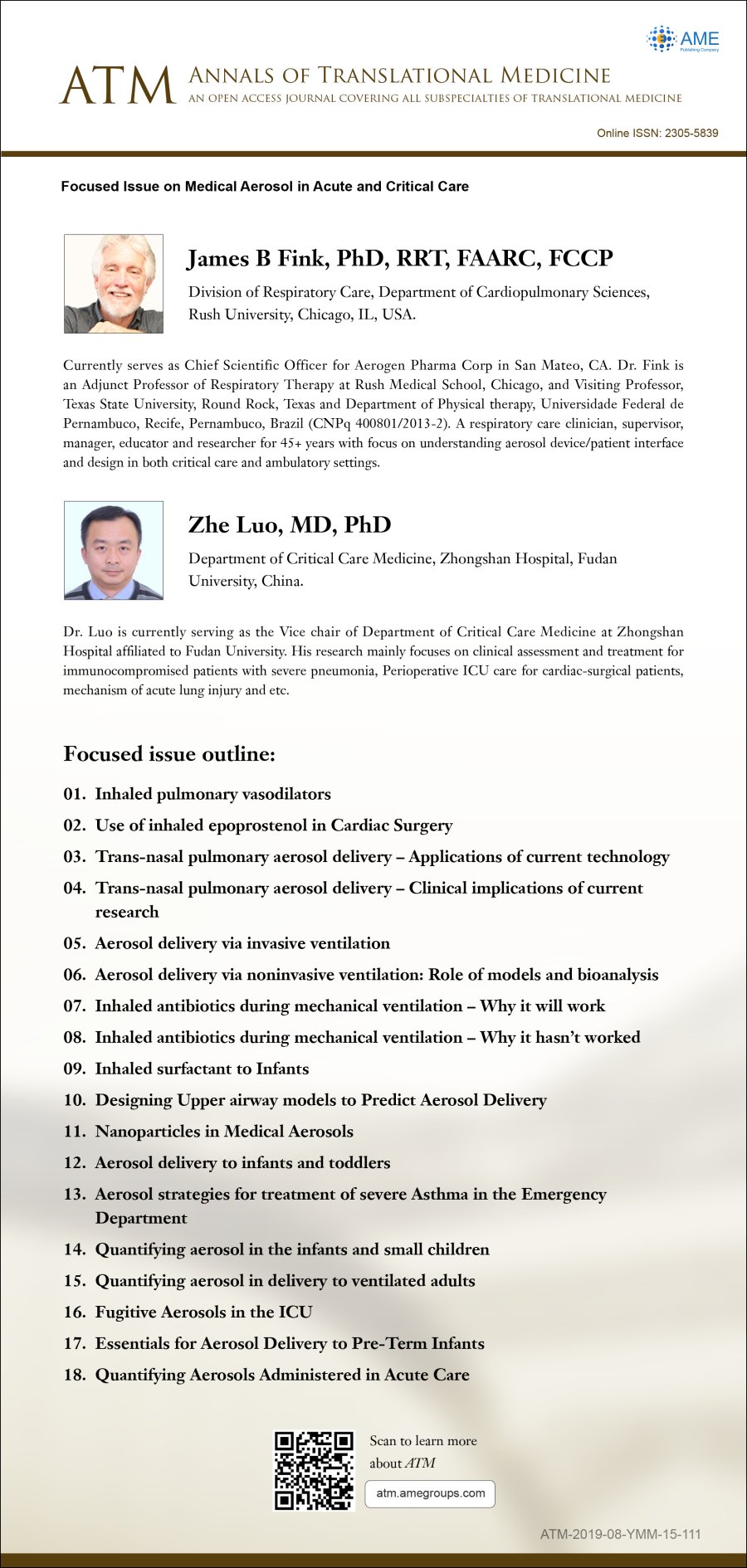 This Focused Issue on "Medical Aerosol in Acute and Critical Care" is edited by Dr. James B Fink and Dr. Zhe Luo.
James B Fink, PhD, RRT, FAARC, FCCP,
Division of Respiratory Care, Department of Cardiopulmonary Sciences, Rush University, Chicago, IL, USA.
Dr. James B Fink Currently serves as Chief Scientific Officer for Aerogen Pharma Corp in San Mateo, CA. Dr. Fink is an Adjunct Professor of Respiratory Therapy at Rush Medical School, Chicago, and Visiting Professor, Texas State University, Round Rock, Texas and Department of Physical therapy, Universidade Federal de Pernambuco, Recife, Pernambuco, Brazil (CNPq 400801/2013-2). A respiratory care clinician, supervisor, manager, educator and researcher for 45+ years with focus on understanding aerosol device/patient interface and design in both critical care and ambulatory settings.
Zhe Luo, MD, PhD
Department of Critical Care Medicine, Zhongshan Hospital, Fudan University, China.
Dr. Luo is currently serving as the Vice chair of Department of Critical Care Medicine at Zhongshan Hospital affiliated to Fudan University. His research mainly focuses on clinical assessment and treatment for immunocompromised patients with severe pneumonia, Perioperative ICU care for cardiac-surgical patients, mechanism of acute lung injury and etc.
Focused issue outline:
Inhaled pulmonary vasodilators
Use of inhaled epoprostenol in Cardiac Surgery
Trans-nasal pulmonary aerosol delivery – Applications of current technology
Trans-nasal pulmonary aerosol delivery – Clinical implications of current research
Aerosol delivery via invasive ventilation
Aerosol delivery via noninvasive ventilation: Role of models and bioanalysis
Inhaled antibiotics during mechanical ventilation – Why it will work
Inhaled antibiotics during mechanical ventilation – Why it hasn't worked
Inhaled surfactant to Infants
Designing Upper airway models to Predict Aerosol Delivery
Nanoparticles in Medical Aerosols
Aerosol delivery to infants and toddlers
Aerosol strategies for treatment of severe Asthma in the Emergency Department
Quantifying aerosol in the infants and small children
Quantifying aerosol in delivery to ventilated adults
Fugitive Aerosols in the ICU
Essentials for Aerosol Delivery to Pre-Term Infants
Quantifying Aerosols Administered in Acute Care