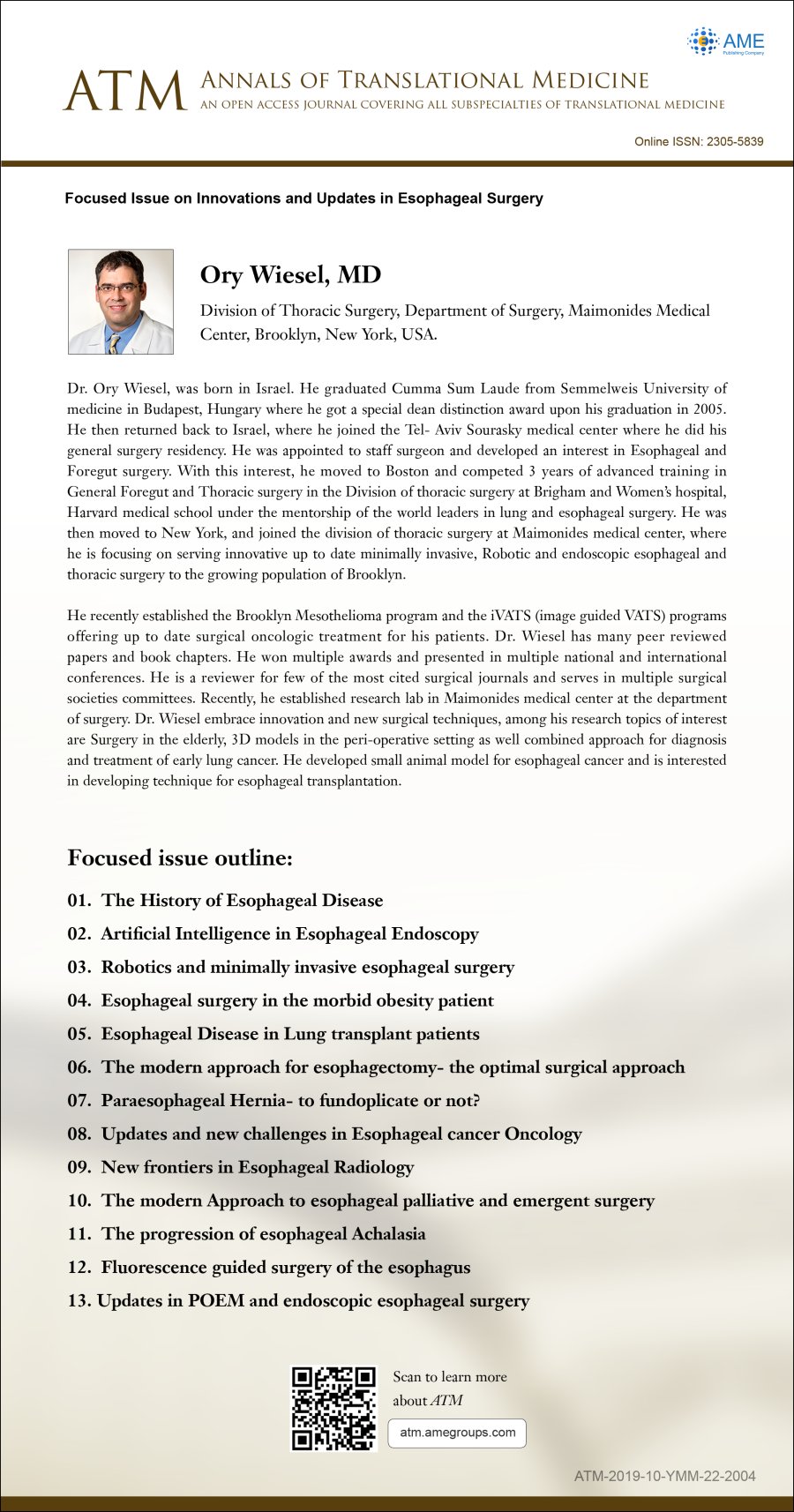 This Focused Issue on "Innovations and Updates in Esophageal Surgery" is edited by Ory Wiesel, MD, from Division of Thoracic Surgery, Department of Surgery, Maimonides Medical Center, Brooklyn, New York, USA.
Dr. Ory Wiesel, was born in Israel. He graduated Cumma Sum Laude from Semmelweis University of medicine in Budapest, Hungary where he got a special dean distinction award upon his graduation in 2005. He then returned back to Israel, where he joined the Tel- Aviv Sourasky medical center where he did his general surgery residency. He was appointed to staff surgeon and developed an interest in Esophageal and Foregut surgery. With this interest, he moved to Boston and competed 3 years of advanced training in General Foregut and Thoracic surgery in the Division of thoracic surgery at Brigham and Women's hospital, Harvard medical school under the mentorship of the world leaders in lung and esophageal surgery. He was then moved to New York, and joined the division of thoracic surgery at Maimonides medical center, where he is focusing on serving innovative up to date minimally invasive, Robotic and endoscopic esophageal and thoracic surgery to the growing population of Brooklyn.
He recently established the Brooklyn Mesothelioma program and the iVATS (image guided VATS) programs offering up to date surgical oncologic treatment for his patients. Dr. Wiesel has many peer reviewed papers and book chapters. He won multiple awards and presented in multiple national and international conferences. He is a reviewer for few of the most cited surgical journals and serves in multiple surgical societies committees. Recently, he established research lab in Maimonides medical center at the department of surgery. Dr. Wiesel embrace innovation and new surgical techniques, among his research topics of interest are Surgery in the elderly, 3D models in the peri-operative setting as well combined approach for diagnosis and treatment of early lung cancer. He developed small animal model for esophageal cancer and is interested in developing technique for esophageal transplantation.
Focused issue outline:
The History of Esophageal Disease

Artificial Intelligence in Esophageal Endoscopy

Robotics and minimally invasive esophageal surgery

Esophageal surgery in the morbid obesity patient

Esophageal Disease in Lung transplant patients

The modern approach for esophagectomy- the optimal surgical approach

Paraesophageal Hernia- to fundoplicate or not?

Updates and new challenges in Esophageal cancer Oncology

New frontiers in Esophageal Radiology

The modern Approach to esophageal palliative and emergent surgery

The progression of esophageal Achalasia

Fluorescence guided surgery of the esophagus

Updates in POEM and endoscopic esophageal surgery