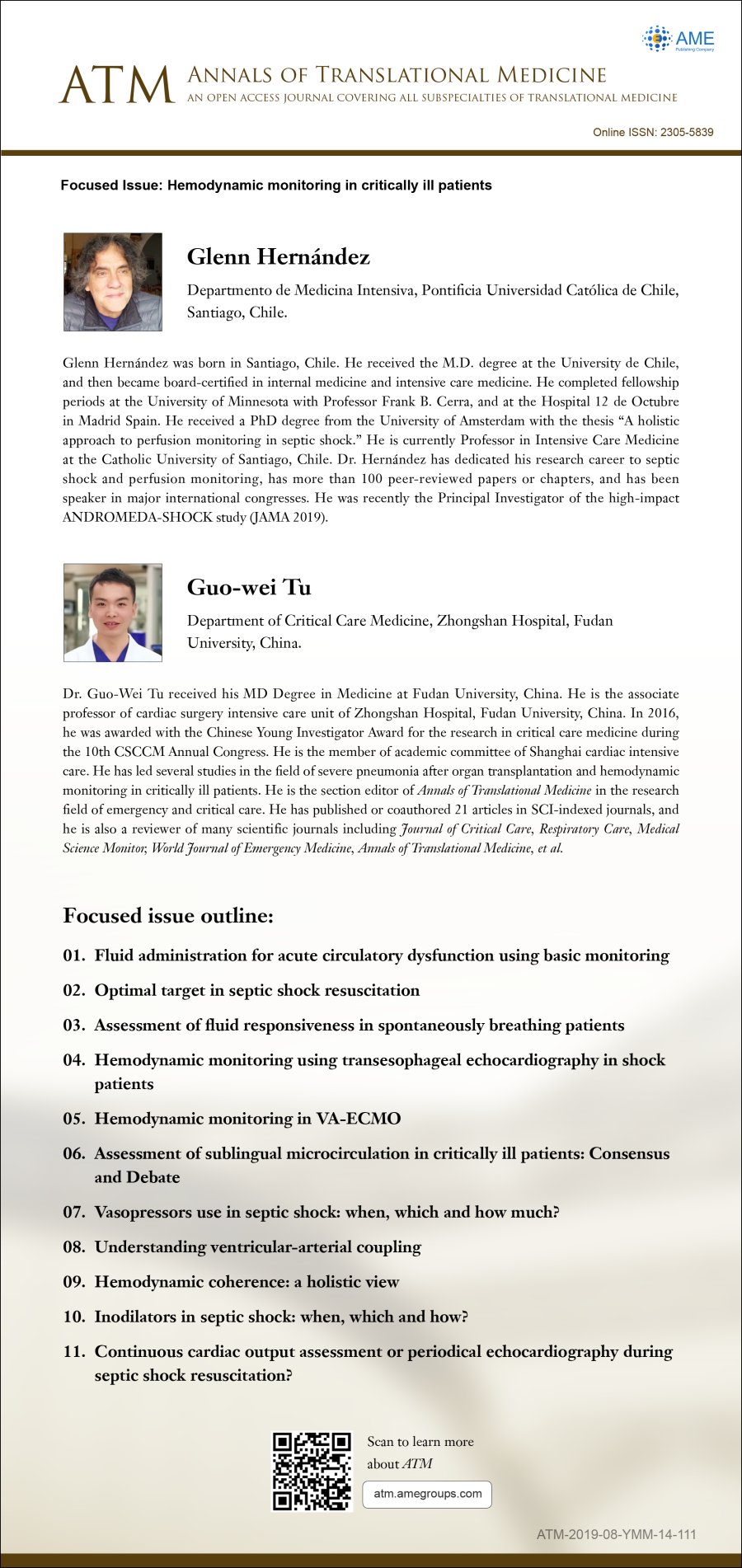 This Focused Issue on "Hemodynamic Monitoring in Critically Ill Patients" is edited by Dr. Glenn Hernández and Dr. Guo-wei Tu.
Glenn Hernández
Departmento de Medicina Intensiva, Pontificia Universidad Católica de Chile, Santiago, Chile.
Glenn Hernández was born in Santiago, Chile. He received the M.D. degree at the University de Chile, and then became board-certified in internal medicine and intensive care medicine. He completed fellowship periods at the University of Minnesota with Professor Frank B. Cerra, and at the Hospital 12 de Octubre in Madrid Spain. He received a PhD degree from the University of Amsterdam with the thesis "A holistic approach to perfusion monitoring in septic shock." He is currently Professor in Intensive Care Medicine at the Catholic University of Santiago, Chile. Dr. Hernández has dedicated his research career to septic shock and perfusion monitoring, has more than 100 peer-reviewed papers or chapters, and has been speaker in major international congresses. He was recently the Principal Investigator of the high-impact ANDROMEDA-SHOCK study (JAMA 2019).
Guo-wei Tu
Department of Critical Care Medicine, Zhongshan Hospital, Fudan University, China.
Dr. Guo-Wei Tu received his MD Degree in Medicine at Fudan University, China. He is the associate professor of cardiac surgery intensive care unit of Zhongshan Hospital, Fudan University, China. In 2016, he was awarded with the Chinese Young Investigator Award for the research in critical care medicine during the 10th CSCCM Annual Congress. He is the member of academic committee of Shanghai cardiac intensive care. He has led several studies in the field of severe pneumonia after organ transplantation and hemodynamic monitoring in critically ill patients. He is the section editor of Annals of Translational Medicine in the research field of emergency and critical care. He has published or coauthored 21 articles in SCI-indexed journals, and he is also a reviewer of many scientific journals including Journal of Critical Care, Respiratory Care, Medical Science Monitor, World Journal of Emergency Medicine, Annals of Translational Medicine, et al.
Focused issue outline:
Fluid administration for acute circulatory dysfunction using basic monitoring
Optimal target in septic shock resuscitation
Assessment of fluid responsiveness in spontaneously breathing patients
Hemodynamic monitoring using transesophageal echocardiography in shock patients
Hemodynamic monitoring in VA-ECMO
Assessment of sublingual microcirculation in critically ill patients: Consensus and Debate
Vasopressors use in septic shock: when, which and how much?
Understanding ventricular-arterial coupling
Hemodynamic coherence: a holistic view
Inodilators in septic shock: when, which and how?
Continuous cardiac output assessment or periodical echocardiography during septic shock resuscitation?