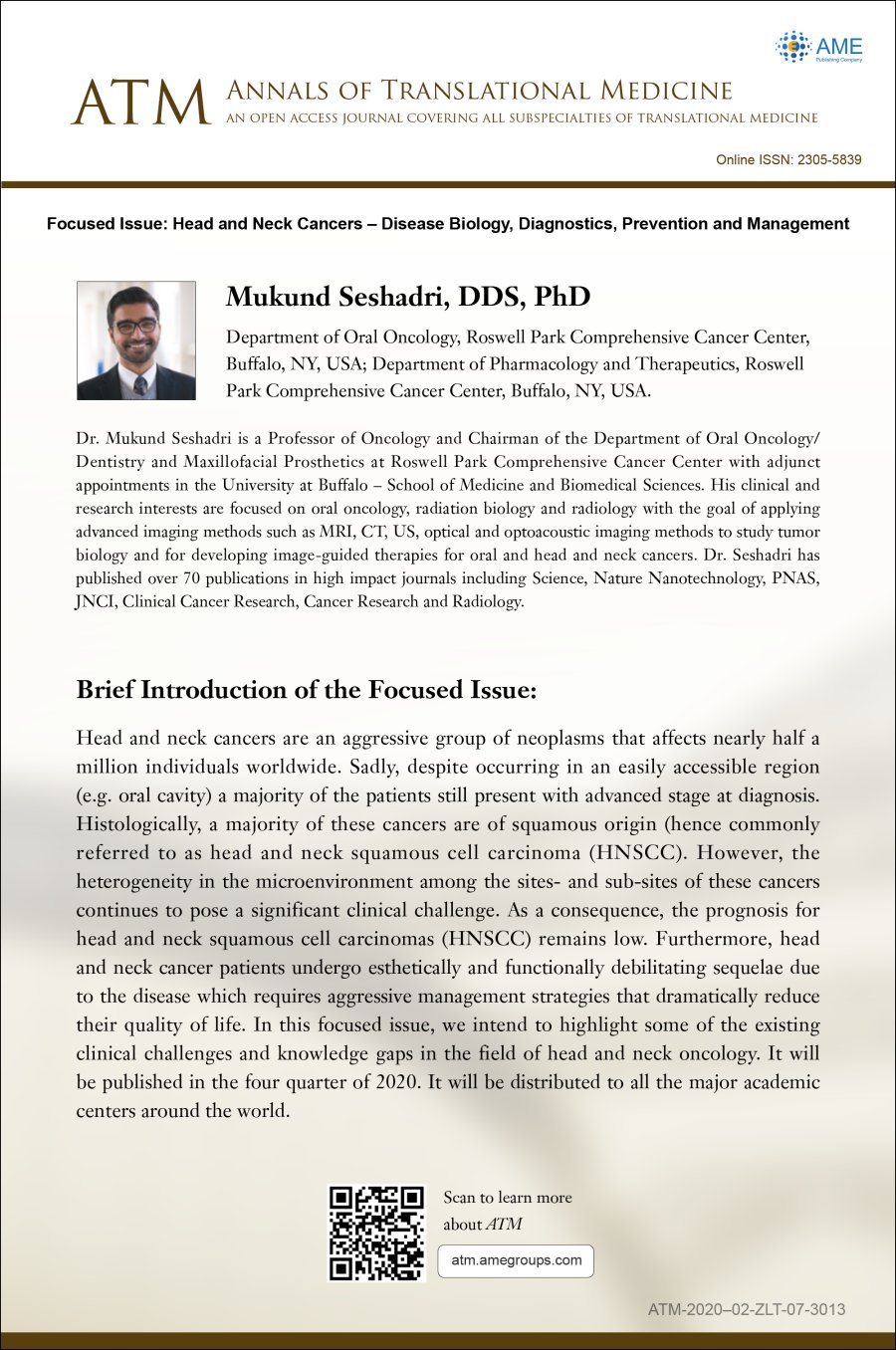 This Focused Issue on "Head and Neck Cancers – Disease Biology, Diagnostics, Prevention and Management" is edited by Dr. Mukund Seshadri, Department of Oral Oncology, Roswell Park Comprehensive Cancer Center, Buffalo, NY, USA.
Dr. Mukund Seshadri is a Professor of Oncology and Chairman of the Department of Oral Oncology/Dentistry and Maxillofacial Prosthetics at Roswell Park Comprehensive Cancer Center with adjunct appointments in the University at Buffalo – School of Medicine and Biomedical Sciences. His clinical and research interests are focused on oral oncology, radiation biology and radiology with the goal of applying advanced imaging methods such as MRI, CT, US, optical and optoacoustic imaging methods to study tumor biology and for developing image-guided therapies for oral and head and neck cancers. Dr. Seshadri has published over 70 publications in high impact journals including Science, Nature Nanotechnology, PNAS, JNCI, Clinical Cancer Research, Cancer Research and Radiology.
Brief Introduction of the Focused Issue
Head and neck cancers are an aggressive group of neoplasms that affects nearly half a million individuals worldwide. Sadly, despite occurring in an easily accessible region (e.g. oral cavity) a majority of the patients still present with advanced stage at diagnosis. Histologically, a majority of these cancers are of squamous origin (hence commonly referred to as head and neck squamous cell carcinoma (HNSCC). However, the heterogeneity in the microenvironment among the sites- and sub-sites of these cancers continues to pose a significant clinical challenge. As a consequence, the prognosis for head and neck squamous cell carcinomas (HNSCC) remains low. Furthermore, head and neck cancer patients undergo esthetically and functionally debilitating sequelae due to the disease which requires aggressive management strategies that dramatically reduce their quality of life. In this focused issue, we intend to highlight some of the existing clinical challenges and knowledge gaps in the field of head and neck oncology. It will be published in the four quarter of 2020. It will be distributed to all the major academic centers around the world.