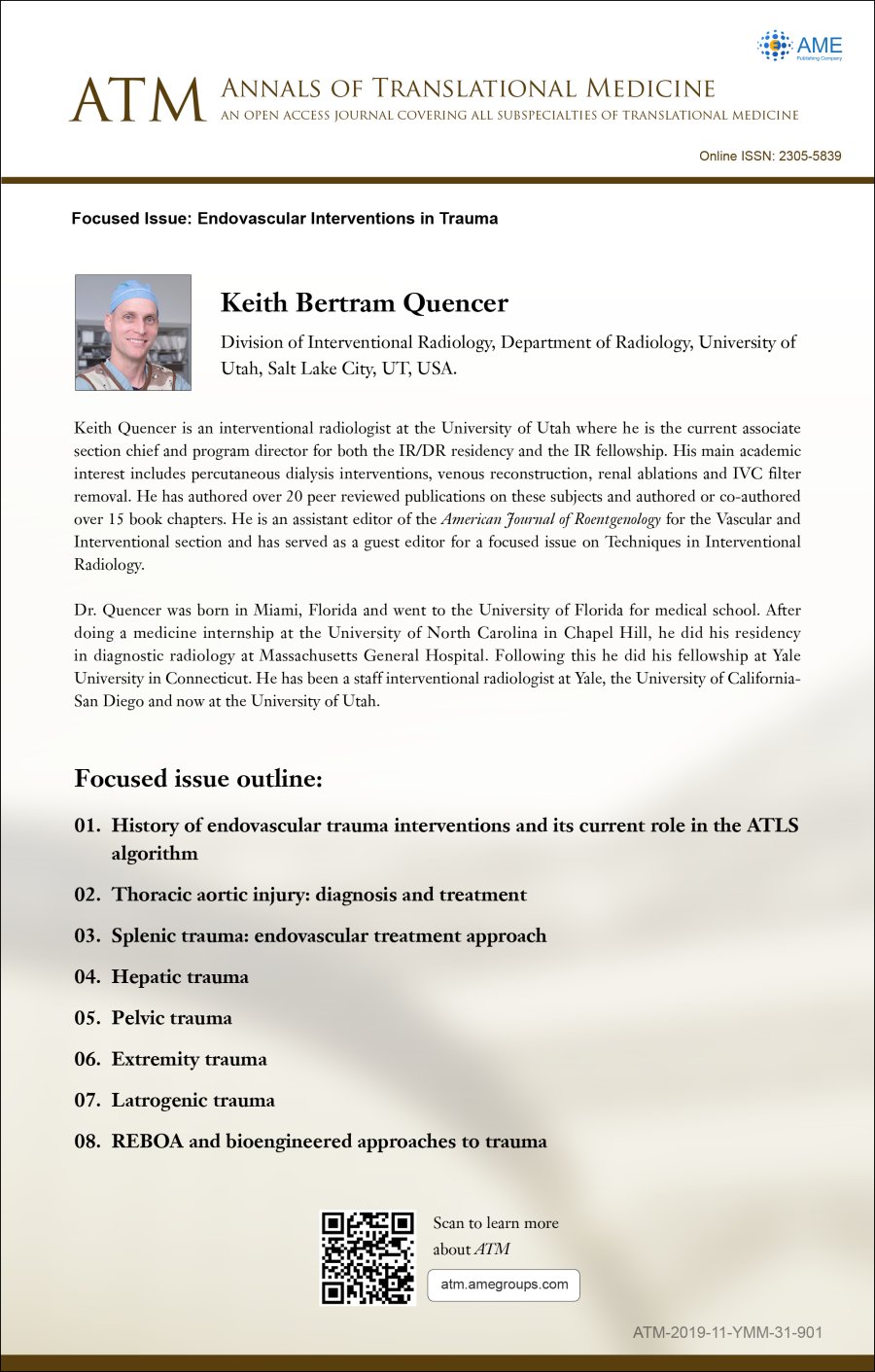 This Focused Issue on "Endovascular Interventions in Trauma" is edited by Dr. Keith Bertram Quencer from Division of Interventional Radiology, Department of Radiology, University of Utah, Salt Lake City, UT, USA.
Keith Quencer is an interventional radiologist at the University of Utah where he is the current associate section chief and program director for both the IR/DR residency and the IR fellowship. His main academic interest includes percutaneous dialysis interventions, venous reconstruction, renal ablations and IVC filter removal. He has authored over 20 peer reviewed publications on these subjects and authored or co-authored over 15 book chapters. He is an assistant editor of the American Journal of Roentgenology for the Vascular and Interventional section and has served as a guest editor for a focused issue on Techniques in Interventional Radiology.
Dr. Quencer was born in Miami, Florida and went to the University of Florida for medical school. After doing a medicine internship at the University of North Carolina in Chapel Hill, he did his residency in diagnostic radiology at Massachusetts General Hospital. Following this he did his fellowship at Yale University in Connecticut. He has been a staff interventional radiologist at Yale, the University of California-San Diego and now at the University of Utah.
Focused issue outline:
01. History of endovascular trauma interventions and its current role in the ATLS algorithm
02. Thoracic aortic injury: diagnosis and treatment
03. Splenic trauma: endovascular treatment approach
04. Hepatic trauma
05. Pelvic trauma
06. Extremity trauma
07. Latrogenic trauma
08. REBOA and bioengineered approaches to trauma