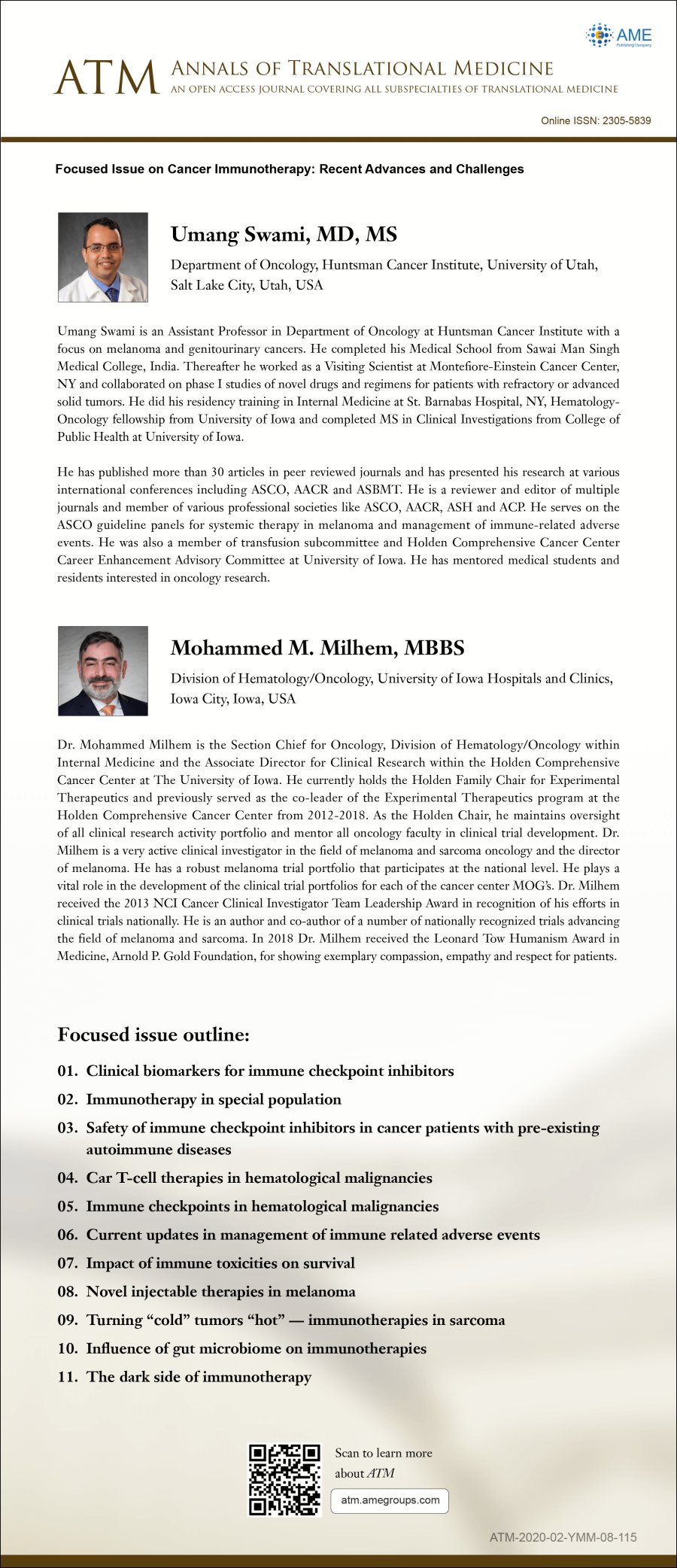 This focused issue on Cancer Immunotherapy: Recent Advances and Challenges is edited by Dr. Umang Swami, MD, MS, from Department of Oncology, Huntsman Cancer Institute, University of Utah, Salt Lake City, Utah, USA; and Dr. Mohammed M. Milhem, MBBS, from Division of Hematology/Oncology, University of Iowa Hospitals and Clinics, Iowa City, Iowa, USA.
Umang Swami is an Assistant Professor in Department of Oncology at Huntsman Cancer Institute with a focus on melanoma and genitourinary cancers. He completed his Medical School from Sawai Man Singh Medical College, India. Thereafter he worked as a Visiting Scientist at Montefiore-Einstein Cancer Center, NY and collaborated on phase I studies of novel drugs and regimens for patients with refractory or advanced solid tumors. He did his residency training in Internal Medicine at St. Barnabas Hospital, NY, Hematology-Oncology fellowship from University of Iowa and completed MS in Clinical Investigations from College of Public Health at University of Iowa.
He has published more than 30 articles in peer reviewed journals and has presented his research at various international conferences including ASCO, AACR and ASBMT. He is a reviewer and editor of multiple journals and member of various professional societies like ASCO, AACR, ASH and ACP. He serves on the ASCO guideline panels for systemic therapy in melanoma and management of immune-related adverse events. He was also a member of transfusion subcommittee and Holden Comprehensive Cancer Center Career Enhancement Advisory Committee at University of Iowa. He has mentored medical students and residents interested in oncology research.
Dr. Mohammed Milhem is the Section Chief for Oncology, Division of Hematology/Oncology within Internal Medicine and the Associate Director for Clinical Research within the Holden Comprehensive Cancer Center at The University of Iowa. He currently holds the Holden Family Chair for Experimental Therapeutics and previously served as the co-leader of the Experimental Therapeutics program at the Holden Comprehensive Cancer Center from 2012-2018. As the Holden Chair, he maintains oversight of all clinical research activity portfolio and mentor all oncology faculty in clinical trial development. Dr. Milhem is a very active clinical investigator in the field of melanoma and sarcoma oncology and the director of melanoma. He has a robust melanoma trial portfolio that participates at the national level. He plays a vital role in the development of the clinical trial portfolios for each of the cancer center MOG's. Dr. Milhem received the 2013 NCI Cancer Clinical Investigator Team Leadership Award in recognition of his efforts in clinical trials nationally. He is an author and co-author of a number of nationally recognized trials advancing the field of melanoma and sarcoma. In 2018 Dr. Milhem received the Leonard Tow Humanism Award in Medicine, Arnold P. Gold Foundation, for showing exemplary compassion, empathy and respect for patients.
Focused issue outline:
Clinical biomarkers for immune checkpoint inhibitors
Immunotherapy in special population
Safety of immune checkpoint inhibitors in cancer patients with pre-existing autoimmune diseases
Car T-cell therapies in hematological malignancies
Immune checkpoints in hematological malignancies
Current updates in management of immune related adverse events
Impact of immune toxicities on survival
Novel injectable therapies in melanoma
Turning "cold" tumors "hot" — immunotherapies in sarcoma
Influence of gut microbiome on immunotherapies
The dark side of immunotherapy